Pet of the month – Sweetie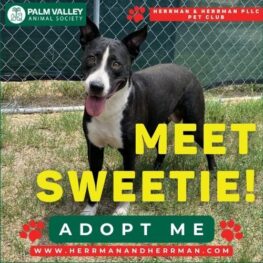 Rio Grande Valley personal injury lawyers are super excited to announce our newest member of the Herrman and Herrman Pet Club!
Meet Sweetie!
Sweetie is a very loveable dog! She loves to play with other dogs, even a chihuahua. She does sometimes get nervous around strangers but is never aggressive. She almost never barks, but will cry for attention from her favorite people. She loves to walk on a leash and eat morning, day, and night. She loves to sleep in her kennel and stays indoors during the day. She never makes a big mess and overall is a real SWEETheart! 😉
If you want to adopt Sweetie, visit https://www.pvastx.org/dogs

ABOUT PALM VALLEY ANIMAL SOCIETY
Palm Valley Animal Society,  or PVAS for short, is a 501(c)3 nonprofit animal welfare organization serving four municipalities in Hidalgo County, along with county at-large. PVAS operates two facilities in Edinburg, Texas, taking in more than 15,000 animals each year. PVAS accepts stray and surrendered animals regardless of age, health, or breed. They are the largest intake facility in Hidalgo County, and one of the largest intake facilities in the country.
Their mission is provide lifesaving care, comfort, and compassion to animals in need by engaging the hearts, hands, and minds of the community.
Their goals are to save every animal that can be saved through progressive adoption, foster care, and rescue transfer programs. PVAS offers numerous additional programs designed to help pets in the shelter, in the community, and in their homes. They offer pet resources, self-supported rehoming, wellness medical services, and a pet food pantry.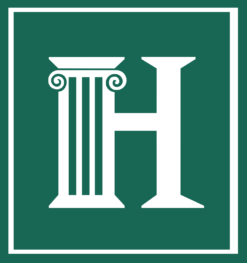 ABOUT OUR RIO GRANDE VALLEY PERSONAL INJURY LAWYERS
With over 100 years of combined experience among the legal team of Herrman & Herrman, P.L.L.C., our Texas personal attorneys have successfully resolved over 20,000 cases. When representing injured Texas residents, we fight for justice against wrongdoing and aggressively pursue the best resolution to complex personal injury claims.
We remain by our clients' side, handling all aspects of their claims and attending to all legal, medical and financial needs. That dedication is combined with experience, legal knowledge, and insight from a former insurance adjuster and several former insurance defense attorneys. Whether our clients are suffering from physical pain from an accident or the emotional grief of death, we treat clients with compassion. We put their mind at ease during difficult times by answering their questions concerning the length of their claim, medical bills, financial compensation and their overall need for a lawyer.
Start the road to recovery by contacting us for a free consultation and case evaluation.
Our law firm has locations across Texas, connect with any of our law firms here!
Corpus Christi Office location
Corpus Christi Southside Office location
Follow us on social media for more events, blogs, and giveaways!
Want to see more, read our other blogs!