All-Terrain Vehicle Accident Lawyers Corpus Christi, TX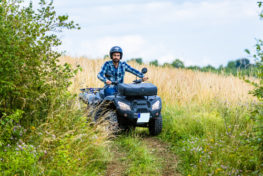 Avoiding an All-Terrain Vehicle Accident
ATVs and four-wheelers need to be treated and used with care. They are not toys, although, from the way they are portrayed on television and on other advertisements, it might seem that way. Drivers and riders need to be properly trained, equipment needs to be probably inspected, maintained and repaired, and proper gear needs to be worn while using these vehicles.
Quad Bike Accident Lawyers at Herrman & Herrman, P.L.L.C.
Unfortunately, when these steps are not taken, it can frequently result in serious accidents. Inexperienced drivers are the ones who are most commonly hurt in these types of accidents, and they may suffer serious injuries that include brain injuries, neurological issues, spinal cord injuries, and many others. At the law firm of Herrman & Herrman, P.L.L.C., located in Corpus Christi, our experienced motor vehicle accident attorneys represent victims of ATV and four-wheeler accidents throughout Texas.
Got involved or hurt in an ATV or Four-Wheelers accident? Contact our ATV accident lawyer for legal help.
There are many ways that accidents can happen on ATVs or four-wheelers. Some of this has to do with the design of the vehicle. Defective designs can make external parts too hot and fail to protect riders and passengers from burning their arms and legs. Defective designs can also cause ATVs to roll over without offering necessary protections to keep passengers safe.
Without the proper warnings on ATVs, people may use these vehicles in a way that causes serious harm.
At our firm, our ATV accident lawyers McAllen and Corpus Christi thoroughly investigate these accidents to determine what happened and who should be held responsible. We work hard to pursue the compensation that our clients deserve for their injuries and lost wages.
Speak with our Corpus Christi ATV accident attorney for a no-obligation-free consultation.
If you or a loved one was involved in an ATV accident, time is of the essence. For more information regarding ATV and four-wheeler accidents in Texas, please contact us at Herrman & Herrman, P.L.L.C. Call our Corpus Christi office or McAllen office toll-free at 361-882-4357.
Our firm has offices in the following locations: Corpus Christi, Corpus Christi South Side, Brownsville, McAllen, San Antonio, Houston, and Ft. Worth , TX.