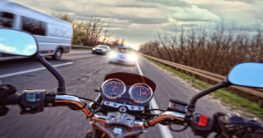 Motorcycles are some of the most freeing vehicles money can buy. Many motorcyclists love the feeling of the pavement beneath their wheels and the wind whipping past their ears. However, motorcycles also present many dangerous situations for the rider and those around them. If you're a motorcyclist or you're just looking to learn more about how motorcycle accidents commonly occur, here are some of the most likely ways.
Head-On Collisions
It was found that in the portion of motorcycles accidents that occur because of motorcycle-on-vehicle collisions, the majority occur when cars hit motorcycles head-on. Often, these types of accidents are fatal.
Vehicles Taking Left Turns
Left turns taken by cars present another opportunity for motorcycle accidents. Often, when cars turn left, they can strike motorcyclists who are trying to overtake the vehicle, who are trying to travel straight through the intersection, or who are trying to pass the car altogether. Cars making left turns often do not check their left blind spots, and even then, motorcycles may be difficult to see because they are smaller than other vehicles.
Lane Splitting
Illegal lane-splitting accounts for another percentage of motorcycle crashes. Lane splitting is a practice wherein motorcyclists will share a lane beside a car or will weave through traffic. While this tactic is useful for avoiding long lines of traffic as a motorcyclist, it is also incredibly dangerous and, for that reason, is illegal in most states. Lane splitting leaves very little room for cars and motorcycles to maneuver and react to traffic changes, resulting in accidents.
When Motorcycle Accidents Get Deadly
Motorcycle accidents can turn especially deadly when safety precautions are not taken. If the cyclist has not taken the proper certification course to drive the motorcycle, more accidents may occur. Accidents may also happen more often if the cyclist is driving the motorcycle while impaired by drugs or alcohol. If the cyclist is not wearing a helmet, padding, or full sleeves and pant legs, they may also incur more deadly injuries from a crash.
Contact Herrman & Herrman P.L.L.C. at 361.882.4357
Our firm is equipped with over 100 years of combined experience handling personal injury cases across Texas. Our outstanding record of favorable settlements and verdicts includes over 20,000 successfully resolved cases. Once we take on a case, we are relentless, and you can rely on us to pursue full compensation for you.
You can trust our attorneys to be compassionate and professional.
We will fight hard to obtain a fair settlement for you.
Our firm represents the injured and families who have lost a loved one due to others' negligent acts.
We serve as counsel in a range of injury cases – including car, truck, motorcycle, bicycle, pedestrian accidents, premises liability cases, product liability cases, and medical malpractice claims.
We have the ability to dispatch the Herrman & Herrman Accident Investigative Team to the crash scene to start an investigation and preserve critical evidence.