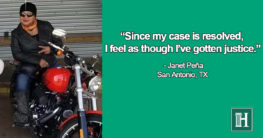 Janet Peña, 55, from San Antonio, TX is one bad Mamma.
Janet's a full-time rehab technician at San Antonio State Supported Living Center, a full-time mother-of-three, and she rode her 2008 Harley-Davidson Dyna Low Rider motorcycle every chance she got. But on May 19th, 2018, the mother of three had to deal with a hit-and-run that nearly took her life.
On a typical day, Janet's bike wasn't the only one parked in front of her home. Her husband, son and daughter are also riders. You could say that it's a whole family biking fraternity.
On the weekends, if Janet and her husband weren't attending a motorcycle rally, you would find the family cruising around on their bikes with other fellow riders in San Antonio, TX.
Deadly Drive Home
On Saturday, May 19th, 2018, a drunk driver changed what was a typical fun-filled afternoon into a potentially fatal one for Janet.
"I was at a picnic," said Janet, "and had to get home by 6:30 p.m. to take my son to a sweet 16 dance."
At the intersection of West Avenue and Redrock Dr. in San Antonio, a drunk driver collided with Janet, as she headed home on her motorcycle.
"I was riding home on my motorcycle," said Janet, "when I was hit, run over, and dragged under a truck driven by a drunk driver.
"After dragging me about 30 feet, he left me in the street without a care of my condition."
Not only did the drunk driver hit Janet as he tried to turn left from an outside lane, with Janet on the inside lane, but he also fled the scene, dragging Janet under his truck.
Eventually, the driver was caught, but that good news came with some bad news as well.
The drunk driver had no insurance.
ARTICLE CONTINUES BELOW…

"'No Work', Means 'No Pay'"
Now, left with a totaled bike, which was Janet's primary mode of transportation, a broken knee, fractured fingers, and road rash up and down her body, and months of recovery ahead, Janet was concerned she wouldn't be able to work – let alone be the full-time mom she had always been.
"I'm a busy mother of three children," said Janet, "working a full-time job and a full-time household.
"'No work', means 'No pay'. The bills continue to come in for payment.
"On top of that, I was unable to interact with my kids in school and other daily activities."
Protection From Uninsured Drivers
The upside for Janet – she carried something that many motorists tend to overlook.
"In Janet's case, she was very smart," said Lane Diamond, Janet's attorney at Herrman & Herrman.
"She had uninsured motorist coverage.
"This coverage can be provided by your insurance company in the event that you're involved in an accident with another driver that happens to be uninsured. It literally amounts to an additional $25 per month, but can be a lifesaver in cases such as Janet's."
Focused On Getting Better
Hiring Herrman & Herrman allowed Janet to focus on the months of recovery ahead of her.
"I was worried about compensation for my injuries," said Janet, "and my lost wages from time off of work.
"I was assured by the firm that coverage from my insurance plan was getting processed.
"They obtained all of the necessary documentation for the case to commence and be acknowledged by all of the parties involved.
"From start to finish, I always had a sense that my case was in good hands."
While the team at Herrman & Herrman did its best to take care of the legal aspects of Janet's case, recovery was stressful for her.
"Prior to the accident, Janet was a very active person," said Maureen Riley, Janet's case manager at Herrman & Herrman.
"The motorcycle was her full-time transportation, but it was a total loss and she had to get a new one. She also couldn't go back to work until she fully recovered.
"After the accident, she also couldn't even drive a motorcycle for at least 5 or 6 months. This was all very depressing to her as she and her husband have been riding for over 20 years.
"Luckily, Janet comes from a very supportive family. Her husband wouldn't even ride his motorcycle as long as she couldn't."
Insurance Company Paid Their Policy Limit
Given all that was on Janet's plate, Herrman & Herrman were able to get her insurance company to move fast and provide financial relief.
"Janet sustained extreme injuries," Lane said. "We were able to quickly collect her medical bills and records, in order to send out our demand for policy limits to her insurance company.
"The insurance company immediately paid out their full policy limits of $30,000 and we were able to pay out Janet her compensation for pain and suffering as a result of her accident."
Life Is Back To Normal
Now that Janet's case is settled and she has recovered, life has gotten back to normal.
"I have less anxiety over paying bills," said Janet. "I've been able to return to work and all of the usual daily activities with my children and my husband."
Regular communication with the firm during the recovery process allowed Janet to focus on getting better.
"Communication was prompt, informative, reassuring and convenient through phone and email on a daily and weekly basis," said Janet.
"They Treated Me Like Family"
Even though Janet was a client of the law firm, she felt as though she was treated more like family.
"While Herrman & Herrman are aggressive in handling the case," said Janet, "they treated me like family as their client.
"They were always thoughtful, and it was very reassuring to me.
"They even addressed me on a first-name basis, which made me more comfortable and happy to be recovering from my injuries and this stressful event."
She especially liked working with a local firm that is vested in helping the community.
"Local businesses, like Herrman & Herrman, that are involved and support the local community, create trust and responsible expectations from the community and the people who live in these areas."
With Janet's case and recovery now behind her, she feels a sense of resolution with the traumatic event.
"Since my case is resolved, I feel as though I've gotten justice with the help of the law firm.
"I would tell all of my friends and family, that if they were ever in a serious incident like mine, to choose Herrman & Herrman.
"You can feel confident in requesting advice from Herrman & Herrman, and get service from an outstanding firm with experience, knowledge, and compassion for their clients."