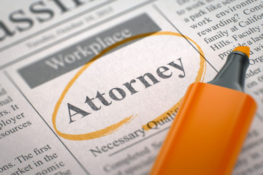 Getting into an automobile collision can be a very scary circumstance. Often times the collision is severe in nature, and these collisions can cause serious injuries.
Often times it is essential to hire an attorney in order to obtain the appropriate outcome for a collision. The insurance companies want to settle claims under the true value to make money. It is very simple folks, if the insurance companies did not make money by supplying you with insurance benefits, THEY WOULD NOT PROVIDE YOU INSURANCE BENEFITS. When you begin to think about these scenarios with the proper lens, it is easy to see having an attorney is essential to a successful personal injury case.
There are several reasons why an attorney, and more specifically Herrman & Herrman, P.L.L.C., is essential to your case:

1. The attorney will fight diligently to gather all evidence on the claim;

2. The attorney that you choose needs to be experienced in personal injury law so that he or she knows the process inside and out;

3. With an attorney involved the insurance company is much more likely to attach the correct value to the claim. Without an attorney, the insurance company will STEAM ROLL you into taking a LOW offer. The attorney will fight to make sure you get all the compensation you deserve.

4. If needed, the attorney can file a lawsuit on your behalf to preserve your case;

5. If needed, Herrman & Herrman, P.L.L.C., will provide client advances for money or shelter. This is a case-by-case determination.

6. EXPERIENCE IS KEY. Herrman & Herrman, P.L.L.C., has been in the business of personal injury law for 25 years. We know the laws, we know the players in the game and we provide expert legal advice all throughout the country.
This is a finicky business, and without a guide to help you through the process, you will be taken advantage of. The insurance companies want to make a profit, they do not want to do the right thing. If the insurance companies did the right thing, I would not have a job, remember that.  The insurance companies making billions of dollars a year are the bad guys, and without an attorney, you will become another victim in their game.
At Herrman & Herrman, P.L.L.C., we understand that a car wreck can be a very scary thing. We also understand the importance of you, the client, and making sure that you, the client, gets the medical attention necessary to make sure you have your health back. The client comes first at Herrman & Herrman, P.L.L.C.