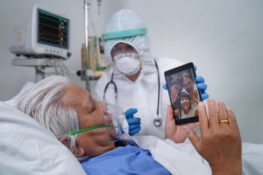 The large number of COVID-19 deaths in nursing homes make it highly likely that we'll see numerous wrongful death lawsuits against nursing homes and long-term facilities in the coming months and years.
One recent analysis says COVID-19 deaths among long-term care residents and employees at such facilities make up about 40 percent of coronavirus deaths in the U.S.
The Centers for Disease Control and Prevention (CDC) states that because long-term care facilities house older adults, many of whom have chronic medical conditions, the residents of these facilities are at high risk of being affected by COVID-19.
As of June 24, the Texas Department of Health Services reported 883 coronavirus deaths among nursing home residents and 133 more in assisted living facilities in Texas. Overall, there have been nearly 6,600 cases of COVID-19 reported among residents at more than 80 nursing homes and assisted living facilities in Texas.
If your loved one has died of COVID-19 while a resident or employee of a nursing home or assisted living facility in Texas, you have every right to explore the potential for filing a wrongful death lawsuit. At Herrman & Herrman, P.L.L.C. in Corpus Christi our experienced wrongful death attorneys can offer you trusted and compassionate guidance during this trying time with a free legal consultation.
Lawsuits Against Nursing Homes Over COVID-19 in Texas
A lawsuit filed over the death of a certified nurse aide at the West Oaks Nursing and Rehabilitation Center in Austin is believed to be the first related to a healthcare worker dying from COVID-19 in Texas, the Texas Lawyer journal says. Maurice Dotson, who died April 17, worked for the nursing home for 25 years.
The lawsuit asserts that Regency IHS of West Oaks didn't provide masks and other protective gear, which exposed staff and patients to infection. Dotson's mother is suing for negligence and is seeking more than $1 million in survival damages for her, wrongful death damages for Dotson and exemplary damages.
Elsewhere, a lawsuit over the death of Jose Velasquez, a resident of Southeast Nursing and Rehabilitation Center in San Antonio, accuses the facility of gross negligence by exposing Velasquez to an "extreme degree of high risk in light of the near certainty of his exposure to COVID-19 as a result of (its) malfeasance."
That lawsuit, filed June 10 in state District Court in San Antonio, seeks unspecified financial damages, according to the San Antonio Express-News.
Additional lawsuits against Southeast are pending over the death of Dorothy "Pearl" Davis, who was employed by Southeast until she died from COVID-19 in May, and from several families of residents who died or were sickened by the virus at the facility, the newspaper reports.
Personal injury / wrongful death attorneys in Texas and across the country are gearing up to sue over injuries and deaths from COVID-19 exposure, Law.com reported in May. In addition to elderly care facilities, suits have already made claims against cruise ships and a meat-processing plant.
In a California wrongful death lawsuit, a family is blaming their loved one's death from coronavirus on the nursing home where he lived. The suit against Glenhaven Healthcare in Glendale, Calif., alleges inadequate safety conditions during the coronavirus pandemic. The suit says a nurse who had been exposed to COVID-19 at another facility was allowed to work at Glenhaven, a local ABC station says.
Another ABC station reports a wrongful death lawsuit filed against Riverbend Post Acute Rehabilitation in Kansas City, Kansas. The suit alleges that the outbreak of COVID-19 started due to a Riverbend employee working in the facility with a cough and fever and without proper personal protective equipment.
Legislation May Protect Nursing Homes Working to Stop COVID-19
Grieving families in some states could be cut off from legal remedies for their loved ones' COVID-19 nursing home deaths.
The Washington Post reported in early June that "healthcare associations nationwide have pressed governors for immunity from lawsuits, in some cases offering specific language for emergency orders. The groups have appealed to Health and Human Services Secretary Alex Azar, House Speaker Nancy Pelosi (D-Calif.) and Senate Majority Leader Mitch McConnell (R-Ky.), who vowed last month to extend new coronavirus-related protections to a number of groups, including the healthcare industry."
Texas Sen. John Cornyn said in May that he and McConnell were drafting a bill that would protect businesses and frontline healthcare workers from certain litigation, according to CBS in Dallas-Fort Worth.
Under the bill, for businesses to have their liability limited, they'd be required to comply with public health guidelines regarding cleaning and protective gear. Cornyn said the legislation would not protect businesses or owners who engage in grossly negligent, willful or criminal misconduct.
As of this writing, no such legislation had been passed by Congress or in Texas, nor had Texas Gov. Greg Abbott made any such emergency declaration.
Abbott has ordered all nursing home facilities in the state to test all residents and staff for the virus, a move driven by the high mortality rates in senior care facilities.
Corpus Christi and Nueces County Continue to Battle Coronavirus
The Caller Times in Corpus Christi reported June 3 that, under Abbott's testing program, at least 11 nursing home staff or residents in Corpus Christi had tested positive for coronavirus. At least 2,300 people at Corpus Christi facilities had been tested.
As of the June 3 report, there had been a total of 285 cases of coronavirus reported in Nueces County, including five new cases reported that day.
But on June 24, the Caller Times was reporting 215 new COVID-19 cases that day, "bringing the total for the first five days of the week to 479 – more than double the entirety of the previous week … and at least 10 times higher than the week before."
This post-Memorial Day reopening surge brought the county's cumulative total to 1,027 – "a stark reversal from the earlier months of the COVID-19 crisis, when Nueces County seemed to enjoy surprisingly low infection rates."
On June 25, Gov. Abbott halted Texas' reopening efforts because the seven-day average of the state's rate of positive cases – the percentage of tests administered that produce a positive result – exceeded 10 percent for the first time since April 18.
Unfortunately, the COVID-19 coronavirus should be considered very much present and spreading in Corpus Christi, Nueces County and all of Texas.
Contact a Nursing Home Wrongful Death Attorney in Corpus Christi, TX
When staff and management at a Texas nursing home do not follow established public health guidelines regarding cleaning and providing protective gear and someone dies from the COVID-19 coronavirus, the nursing home's owners may be held liable.
The Corpus Christi nursing home Covid-19 attorneys of Herrman & Herrman have an in-depth knowledge of federal and state laws governing nursing homes and other facilities that care for Texas' senior citizens. As attorneys working on your behalf, we will seek the evidence necessary to show that a Texas nursing home failed to meet the duty of care owed to your loved one.
Contact us today for a free legal consultation about how we can help your family.