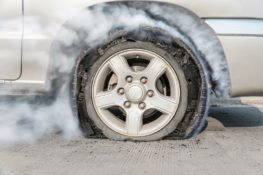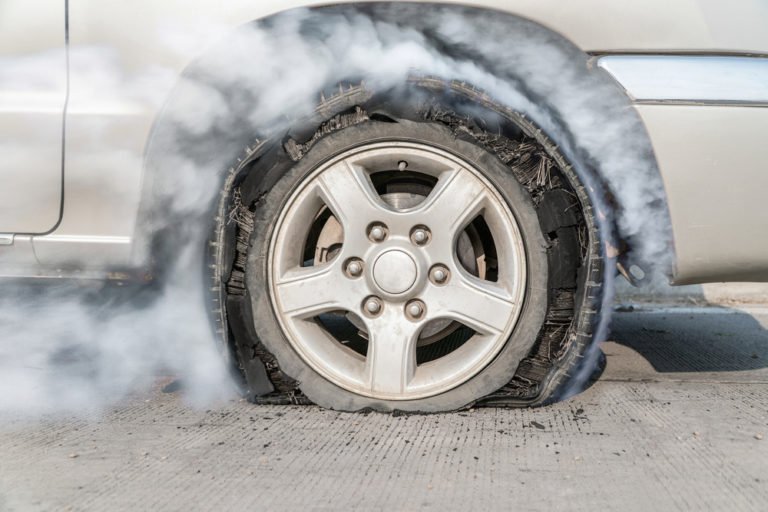 Americans spend much of their lives behind the wheels of cars and trucks, traversing America's roads and highways on a daily basis. That freedom of mobility has helped to define the nation's character and offers a wide range of benefits for its citizens. At the same time, however, all of that driving can come at a cost in terms of accidents and collisions that result in thousands of injuries and deaths each year. Sadly, far too many of those accidents are the result of tire failures. For that reason, it is important to understand tire blowouts and how to handle them.
What is a Tire Blowout?
When drivers and technicians talk about the term "blowout" they are typically referring to a phenomenon where a tire bursts and then quickly loses its air pressure. The common perception among many people is that this happens as the result of too much pressure inside the tire, coupled with an area of weakness that cannot stand the strain of that air. In reality, most tire blowouts are the result of not having enough air pressure. When air pressure is low, tires flex in ways that exceed their design, stretch the limits of their elasticity, and overheat. That causes the bonds that form the tire's rubber structure to weaken and break free from the steel cord that reinforces it.
Other Hazards that Can Contribute to Blowouts
Of course, low air pressure is but one contributing factor that can result in a blowout. One of the other major concerns involves something that most drivers are all too keenly aware of – road conditions. It is common to hear people in cities and towns across America complain about the state of road maintenance in their areas. As it turns out, that concern is more deserving of attention than many people might have imagined.
According to a study conducted by AAA, potholes have been responsible for about $15 billion in vehicle repair costs for American drivers in the last five years alone. That averages out to about $3 billion each year – a staggering cost to consumers that helps to explain why roughly two-thirds of surveyed citizens express at least some level of concern over the state of America's roads and highways.
Danger in Texas
Texas is one of the few states in the country that have more open laws when it comes to speed limits. In Texas, drivers will find speed limits ranging from 75 to 85 miles per hour. While that is a great thing for everyone who appreciates such freedom, there are some risks associated with those higher speed limits, and trucks are especially vulnerable. The fact is that truck tires are typically designed to accommodate speed up to 75 miles per hour.
The problem is that high speeds, in combination with higher environmental temperatures, can result in increased pressure on the structural integrity of a tire. In Texas summers – and indeed, summers across the Western United States, a combination of factors can result in blowouts that can have devastating impacts on lives and property.
What Drivers Know
Drivers sometimes seem to know less than they probably should when it comes to tire safety. For example, surveyed drivers recognized worn treads and flat tires as obvious problems, but less than a third identified low tire pressure as a danger.
Obviously, tire safety is a concern that deserves more attention from the public. The NHTSA understands the importance of education in this area and has initiated a campaign across the nation to improve public education about safety. That campaign – "Tire Safety: Everything Rides on It" – is designed to educate drivers about the important role of tire maintenance, proper inflation, and things like load limits for cars and trucks.
AAA has its own take on tire safety as well and has stressed driver knowledge about basic tire management. Even things like knowing how to change a tire can make a tremendous difference when it comes to protecting drivers and saving lives. Sadly, however, that skill is one that has deteriorated over the years to the point where an estimated twenty percent of all millennial drivers lack basic knowledge about how to change a tire.
Slightly more than ten percent of drivers between the ages of 35 and 54 also lack the ability to perform this simple task. However, the starkest difference is seen when men and women are compared. While only 3% of men claim to not know how to change tires, nearly a third of women lack that same knowledge.
The important thing to do is to practice good tire maintenance and be alert while driving. Check your air pressure regularly to ensure that tires are properly inflated, and visually inspect your tires. Stay within your vehicle weight limits to avoid excess pressure, and maintain moderate speeds – especially during periods of extreme heat. Finally, know how to respond when a blowout occurs. Remain calm, briefly accelerate the vehicle to avoid a loss of momentum, and then allow the vehicle to slow down naturally. At that point, you can start to gradually pull to the side of the road, where you can either change your tire or call for roadside assistance.
About Herrman & Herrman P.L.L.C: Personal Injury Law Firm
We serve all of South Texas, with offices in Corpus Christi, San Antonio, McAllen, and Brownsville. With over 100 years of combined experience, our attorneys have successfully resolved over 20,000 cases involving car, truck, and motorcycle accidents, as well as injuries caused by faulty products, slip and falls, and workplace accidents. If you or a loved one is ever injured by another driver be sure to contact us at 361-882-4357 or via our website at   htps://www.herrmanandherrman.com/contact-us/ for your free consultation.