SAN ANTONIO, TX – In an update to a report from earlier this week, the San Antonio police department identified the pedestrian killed by a truck on Sunday as Sarah Ann Lewers.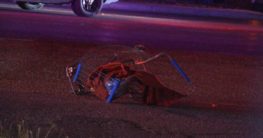 KSAT reports that Lewers, 53, was pushing a shopping cart at 1750 Austin Highway at approximately 10:00 p.m. on May 3 when she was hit by a black 1996 Ford Ranger.
Police officers pronounced Lewers dead when they arrived on the scene of the accident.
The driver who struck Lewers remained on the scene after the crash, and he assisted the police in their investigation. The driver stated that he did not see Lewers on the dark road until the vehicle crashed.
The police are not charging the driver because he stopped to provide aid after the incident.
Disclaimer: The San Antonio pedestrian accident attorneys at Herrman and Herrman provide up-to-date accident information to help protect our community. We hope that this article will help you stay informed and keep yourself and your loved ones safe. This article is not intended to provide medical or legal advice. If you were hurt in a pedestrian accident and need legal counsel, contact Herrman and Herrman today