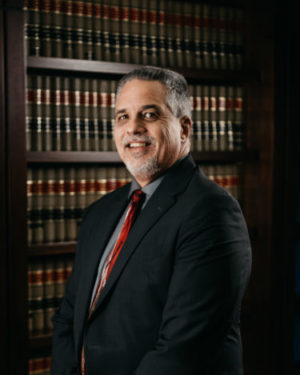 Jeff Johnson has always been committed to providing the highest level of legal representation for his clients. He understands each case is "the most important case" to a client. His legal experience has taught him that all clients deserve an attorney who is honest with them and vigorously fights for them.
Jeff was born in Shelbyville, Indiana. He was the first in his family to graduate from college. He attended Purdue University and received his B.S. in Chemical Engineering in 1990. While at Purdue University, he worked his way through school by participating in the university-industry cooperative education program in engineering.
Jeff then moved to Houston, Texas where he worked as a process engineer for one of the largest engineering-construction companies in the world. During his employment, he attended the University of Houston and received his Masters of Chemical Engineering in 1994. Jeff also obtained a great deal of experience in the chemical plants and refineries.
In 1997, Jeff moved to Sullivan, Indiana and attended the Indiana University School of Law – Indianapolis. He earned his Doctor of Jurisprudence in 2000. In 2002, he opened his own firm, handling personal injury, criminal, family, probate, property, corporate, and municipal law. He dedicated much of his practice to assisting individuals who could not afford legal representation and was involved in the community. At the beginning of 2016, Jeff closed his practice and moved to Corpus Christi, Texas, and has since focused solely on personal injury law. He is licensed to practice in the State Courts of Texas and Indiana, the Northern District Court of Indiana, the Southern District Court of Indiana, and the Southern District Court of Illinois.
Jeff and his wife, Diana, have four children between them, three daughters-in-law, and their dog, Toby. When he is not working for his clients, Jeff enjoys spending time with his family, working out, and community involvement.