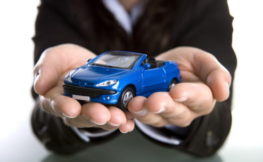 If you're in the market for a used car, you could be at risk of purchasing a car that has a pending recall that hasn't been fixed. Earlier this year we saw the largest-ever U.S. auto recall after millions of Takata Airbags were found to be possibly defective. Even with recall announcements, every year 25 percent of recalls still go unfixed. If you're shopping around for a used car, there are ways to protect yourself from unknowingly purchasing a car that has been recalled.
With the recent Takata recall, legislators have begun to take action in identifying who is responsible for making sure that work is done, but until the Federal Trade Commission takes action, it remains the customer's responsibility to check and repair any recalls. According to Consumer Reports, it is against federal law for a dealership to sell a new car if a pending recall has not been performed, but there is no protection for used cars. Although some manufacturer-backed certified pre-owned programs include performing any recalls as part of the certification process, but it is up to the buyer to verify that the work has been performed.
Before purchasing a vehicle, ask the dealership or private party for the Vehicle Identification Number (VIN). You can check for recalls using CarFax's recall check, or using the government's VIN look-up tool. You can also check the manufacturer's website to see up-to-date recall information. A recall doesn't make a used car a lemon, it is just a problem with the vehicle that has been identified and that can be fixed. If a recall shows up for the car, call a local dealer that services that make and model to find out what a repair will entail. You can also use the information about the recall to try to get the seller to come down on the price.
Checking for recalls should be part of your pre-purchase checklist. If you are purchasing from a private party and the owner has ignored a recall for more than six months, it is a sign that the vehicle has not been maintained and may have other mechanical problems. Always be sure to test drive the car, check the repair history, have it inspected by a mechanic and research pricing before purchasing a used one.
Visit Consumer Reports for more information about avoiding purchasing used cars with a recall notice.