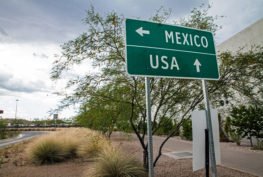 Tragedy struck on the border of South Texas on the 23rd of May 2018. It has been reported by the Customs and Border Protection agency that on Wednesday, 23rd of May, an agent of theirs shot and killed an undocumented immigrant in the Rio Bravo area near Laredo.
Reports indicate that the agent was making his rounds, investigating a report of illegal activity on that day. He came upon a group of undocumented immigrants in the aforementioned Rio Bravo area at around 12.22 p.m. While in the process of trying to arrest the migrants, the group resorted to violence and started attacking the agent with blunt objects.
This attack led the agent to draw his firearm and fire it, in the process fatally wounding one person. Further investigations revealed that the victim of the fatal shooting was female. It was gathered that the victim was shot in the head.
The CBP further reported that by the time EMTs arrived at the scene to try and resuscitate the victim, the rest of the migrants had fled the area. Fire Chief Juan C. Gonzalez reported that the victim still had a pulse when EMTs arrived, but before they could organize supplies she had passed on.
Three other immigrants were however apprehended at the scene by other CBP agents.
Marta Martinez, a resident in the Laredo area captured footage of happenings after the incident. She sounded very distraught in the footage that she uploaded to a Social media site, Facebook. "Why did you shoot the girl? You killed her!" she screamed at an agent.
Attacks on border patrol agents have been increasing over the past couple of years. Hopefully, a long-lasting solution is put in place sooner rather than later.
Further investigation into the matter is being carried out by the FBI and the Texas Rangers.