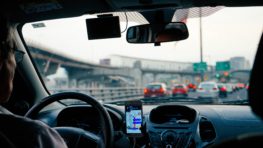 Rideshare services can often be convenient ways of getting around. Particularly if you do not own your own vehicle, they may also be economical and safe ways of getting yourself home at the end of a night out. However, being in a car operated by a contractor who works for the ridesharing company can create complications should you ever be in a car accident. You may wonder, can I sue this rideshare company if the driver was at fault for the accident? You may be able to take legal action, but it depends. If you have been in a car accident in a rideshare, here is what you need to know.
Passengers, Motorists, and Pedestrians are all Eligible to Sue a Rideshare Company
Anyone involved in a car accident involving a rideshare driver and vehicle is eligible to sue a rideshare company. That includes other motorists, pedestrians, bicyclists, motorcyclists, and riders. However, most ridesharing services, like Uber and Lyft, have liability policies in place only for drivers who are currently "on duty." That means that any payout you could receive would only be applicable if the driver had their driving app turned on. If a driver has their app turned off, the rideshare company for which they work assumes no liability for any damages.
Rideshare Companies Often Limit Their Liability
While big companies like Uber and Lyft do have supplemental auto insurance for all their drivers, they can often limit their liability by classifying their drivers as independent contractors. Since they are not technically full time "employees" employed by the rideshare company, the company's claimed liability can be lower.
What Should I Do if I Am in a Rideshare Car Accident?
If you are the victim of a car accident of any kind, you should always tend to any injuries and cooperate with first responders first. After you are sound, medically, you can think about your legal options. Contact a reputable personal injury attorney in your area to help you get the compensation you deserve if you are eligible.
Contact Herrman & Herrman P.L.L.C. at 361.882.4357
Our firm is equipped with over 100 years of combined experience handling personal injury cases across Texas. Our outstanding record of favorable settlements and verdicts includes over 20,000 successfully resolved cases. Once we take on a case, we are relentless and you can rely on us to pursue full compensation for you.
You can trust our attorneys to be compassionate and professional.
We will fight hard to obtain a fair settlement for you.
Our firm represents the injured and families who have lost a loved one due to the negligent acts of others.
We serve as counsel in a range of injury cases – including car, truck, motorcycle, bicycle, and pedestrian accidents, premises liability cases, product liability cases, and medical malpractice claims.
We have the ability to dispatch the Herrman & Herrman Accident Investigative Team to the crash scene to start an investigation and preserve critical evidence.