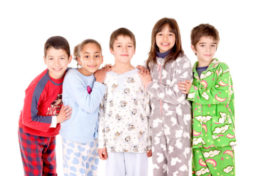 The Consumer Product Safety Commission has recalled a motorcycle-themed children's one- and two-piece pajama set that fails to meet federal flammability standards for children's sleepwear and poses a risk of burn injuries to children.
The potentially dangerous product being recalled is made in China for Smooth Industries of Oceanside, Calif. It is sold in four styles: Ride Smooth, Honda, MX Superstars, and Moto X.
The CPSC has issued Recall Number 15-108 for the Smooth Industries Children's Pajamas.
Pajamas Listed as 'Playwear'
On its website, Smooth Industries refers to the clothing as "playwear." It describes the garments as:
Red and gray camo pattern with Ride Smooth printed in multiple locations.
Red, white and black with the Honda logo printed in multiple locations.
Red, blue and black with MX Superstars branding on center chest.
Orange, white and black with an image of a motorcycle rider on front chest and "Moto X" printed on the center chest, left sleeve and left and right hip.
The one-piece pajama sets were sold in sizes 6 to 12 months, 12 to 18 months and 18 to 24 months. They are long-sleeved and have snaps along the legs and crotch. Two-piece sets were sold in sizes XS to Youth XL, according to the CPSC, or sizes 2t/3t – 14-16, according to Smooth Industries. "Smooth Ind." and "smoothindustries.com" are printed on the garment's neck label.
The CPSC says about 7,600 pairs of pajamas have been sold at authorized Smooth Industries motorcycle and motocross dealers nationwide and on the website from October 2012 through January 2015 for between $30 and $35.
Smooth Industries Dealers in Texas
Smooth Industries dealers in Texas include:
No injuries caused by the recalled children's apparel have been reported.
Anyone who has these pajamas should stop using them immediately. Smooth Industries is cooperating with the recall. It says the playwear should be returned to the company for credit on its website or the company will replace it with "new compliant playwear at future date."
Smooth Industries may be contacted through the website or at (844) 216-2076 toll-free from 9 a.m. to 5 p.m. Pacific Time.
Flammable Fabrics Act
The Flammable Fabrics Act was adopted in 1953 to regulate the manufacture of highly flammable clothing. Responsibility for administering the FFA was transferred to the CPSC when the agency was created in 1972. Under the Flammable Fabrics Act, CPSC can issue mandatory flammability standards, which it has done for the flammability of clothing textiles, including children's sleepwear.
The product liability lawyers of Herrman and Herrman assist individuals and families who have been harmed by faulty consumer products, including children's clothing that does not meet safety standards. If your child has worn Smooth Industries pajamas and been hurt in a fire, please contact us to discuss how we can help you pursue a financial claim today.