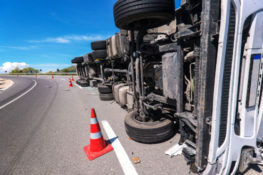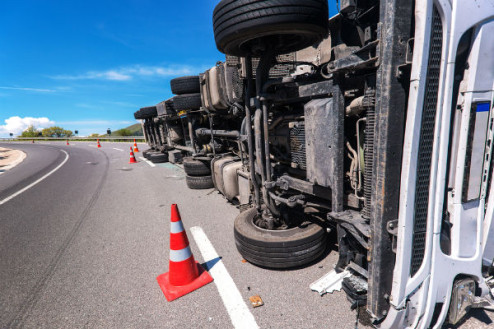 Traffic conditions can change in the blink of an eye so it's important to stay focused on the road and not get distracted by electronic devices. Truck accidents can happen anywhere at any time. An infant was killed in an accident this month in Montgomery County involving a tractor-trailer truck stopped in an active lane of traffic on Texas 249.
According to news reports, a mother who was transporting two children in an SUV crashed into the back of a tractor-trailer that was parked with its blinkers flashing in the right lane of the highway around 1 p.m. on August 3. Nine-month-old Sawyer McIntosh who was strapped into a car seat in the back seat died in the accident while his mother Carter McIntosh and 3-year-old brother were taken to the hospital with injuries.
The truck driver, who was driving for Central Transport, was trying to make a delivery to a nearby business and was on the phone talking to the business owner when the collision occurred, according to ABC Eyewitness News. The driver was not injured. The Department of Public Safety said it is illegal to park in a moving lane of traffic unless a truck is disabled.
Texas trooper Erik Burse alleged that the woman who was driving the SUV was looking at her cell phone at the time of the collision, according to The Courier of Montgomery County.
The Department of Public Safety is investigating the accident and trying to determine whether to bring charges against the truck driver. A grand jury will be presented with the evidence and left to decide whether criminal charges are appropriate, according to a KHOU report.
Many traffic accidents have complex fact patterns with more than one driver contributing to a collision.
Persons Partially At Fault in Accidents May Still Seek Compensation
Texas law recognizes that a person who is partially at fault in an accident may in many cases still recover compensation for medical bills, funeral expenses, and other losses suffered. Texas applies a modified comparative negligence rule to determine whether damages may be recovered in wrongful death cases. If the wrongful death claim proceeds to trial, a judge or jury will review the evidence presented and determine each party's degree of fault.
The surviving parent, spouse or children of someone who has been killed as a result of negligence may file a wrongful death lawsuit in Texas.
Certainly, no amount of money will bring back a lost loved one. But families who have suffered a terrible loss should have justice. A family should not have to bear the financial burden of sizable medical bills, funeral expenses and other expenses resulting from accidents they didn't cause. A wrongful death claim may provide compensation for pain and suffering, lost income, and loss of companionship. A settlement can provide some financial security to a family that has lost a breadwinner.
Considering a Wrongful Death Case
Wrongful death cases are complex and require an attorney who is compassionate and committed to obtaining justice for a family that has been wronged by a preventable accident. They require time to investigate and Texas requires the cases to be filed within a certain period of time after the death.
The job of a wrongful death attorney is to gather evidence and show that the other party had the greater share of fault in the accident and should be held accountable. The attorney will deal with the insurance company representing the at-fault party.
A committed Texas wrongful death attorney can help you get through these difficult times after a preventable accident.