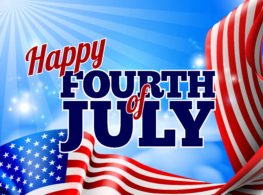 In the United States, the Fourth of July is widely celebrated with a barbecue, fireworks, pool parties and more. While all of these things are fun, they can also be dangerous. Whether you celebrate in your backyard or in a public place, here are a few tips to keep your holiday safe:
Firework Safety
Obey all local laws regarding the use of fireworks
Never use fireworks indoors
Don't allow children to handle or use fireworks; adults should supervise all firework activities
Don't drink alcohol while handling fireworks
Never relight a "dud" firework. Wait 20 minutes and then soak it in a bucket of water.
Never carry fireworks in your pockets.
Always have water ready to douse a fire
Know your fireworks and read caution labels before igniting
Wear safety glasses when using fireworks
Soak spent fireworks with water before placing them in an outdoor garbage can
Avoid using homemade fireworks or illegal explosives
Water Safety
Keep children away from pool drains, pipes, and other openings
Keep a watchful eye on everyone in the water
Teach children basic water safety tips
Have a throwable flotation device readily available
Don't drink alcohol while swimming
Put young children or inexperienced swimmers in a Coast Guard approved life jacket
Walk carefully into open waters
Do not dive headfirst
Keep track of the local weather and pay attention to any warning signs or flags
Beware of aquatic life
Grilling Safety
Keep children and pets away from grilling area
Only use the grill outside
Keep your grill clean by removing all grease and fat buildup
Make sure grill is a fair distance from your home and deck railings and clear of eaves and overhanging branches
Use long-handled tools made specifically for cooking on the grill to keep the chef safe
Never add charcoal starter fluid when coals have already been ignited
Always follow manufacturer's instructions when using a grill
The National Council on Fireworks Safety encourages consumers to know their fireworks. Nancy Blogin, President of the National Council on Fireworks Safety says, "Consumers should be aware of where their fireworks come from; only buy from licensed stores, stands, and tents." Nancy also says, "A designated shooter should prepare a shooting area, carefully read the label of each firework and understand exactly what the firework will do and refrain from consuming alcohol. Planning makes for a safe and fun backyard fireworks display."
Remember, fireworks can be dangerous, causing serious burn and eye injuries. You can help us prevent fireworks-related injuries and deaths by working with a national, state or local organization where you live to promote fireworks safety in your community.