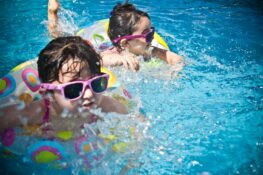 This summer, it's likely that you will want to live it up and soak up the sun even more than in previous summers. After the COVID-19 pandemic shut down much of the festivities you may have been looking forward to in the summer season last year; many feel the pressure to maximize their season. If you're looking for fun things to do this year that will make up for last year but still safe, here are some great ideas.
Have a Pool or Beach Day
Being on the shore or chilling poolside is an essential part of making the most of your summer. However, it's also essential that you keep both you and your family and friends safe. Ensure that young children are not swimming without a chaperone and that all who choose to swim are sufficient swimmers. Additionally, try not to load up on too many poolside margaritas before you take a dip—being under the influence can affect your swimming abilities.
Grill With Friends
Barbecues and backyard cookouts scream summertime fun. Getting all your friends that you've missed over the last year together in your yard for burgers and hotdogs will bring joy to your whole crew. As you grill, remember proper form: that means never grilling indoors, putting out your hot coals safely, and protecting yourself with mitts and long-handled grill tools.
Attend the Large Gatherings You Missed
Summer's return means the comeback of large group gatherings like concerts, carnivals, music festivals, summer camps, and more. Ensure that you have a plan with your friends or family of how you will all stay safe at these activities. Designate a sober driver if you will be drinking, make sure everyone is hydrated, sun screened up, and mark a meeting place nearby if something goes wrong and you all need to meet back up or if someone is lost.
Head Out on Scenic Road Trips
Road trips are a great way to bond with people and to see the country. Make a few stops along the way to an ultimate destination and make memories the whole time. When you're taking a long trip, it's important to know how to stay safe. That means you should buckle up, use proper car seats for infants and toddlers, reduce distraction by staying off your phone while behind the wheel, and always practice defensive driving.
No one plans on being injured, but we're here for you if you. Contact Herrman & Herrman today or give our firm a call at (361) 882-4357 to speak to one of our knowledgeable Car Accident injury attorneys.  Our law firm has extensive experience in personal injury law, having handled more than 20,000 cases. We have office locations in Ft. Worth, Brownsville, McAllen, Corpus Christi, Corpus Christi South Side, San Antonio, and Houston. Herrman & Herrman has Spanish-speaking and English-speaking staff so you can discuss your legal matter in the language that you feel most comfortable speaking.