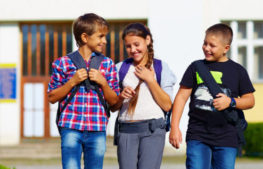 October 5th is International Walk to School Day which involves communities from around the globe walking and biking to school on the same day. Starting in 1997, by the Partnership for a Walkable America, Walk to School Day was created to raise awareness for walkable communities. Interest from around the world began in 2000 after Canada, the United Kingdom and the United States of America joined together for the first International Walk to School Day.
What Is It?
This event has been part of a movement for year-round safe routes to school and holds as a testament to people's enthusiasm with record-breaking participation each October. Although this event focuses more on walking to school it has also created the desire for a National Bike to School Day which took place on May 9 in coordination with the League of American Bicyclists' National Bike Month. Basically, although each focuses on a different form of transportation to school, they both encourage an active transportation to school.
With safer and more accessible streets along with cleaner air, this event fosters healthier habits for students everywhere to get to and from school.
National Recognition!
The event has become so large and recognized that the federal legislation established a National Safe Routes to School Program that provided $612 million towards Safe Routes to School from 2005 to 2010. Over 14,800 schools in the U.S. including the District of Columbia have been awarded federal funds for Safe Routes to School activities.
If you do not think that your community is safe to walk in, the organization urges for parents and students alike to walk on campus, hold a press conference with local community leaders and bring attention to safety concerns.
Keep It Going!
And why stop there? Change the culture within your community and inspire those around you to continue this event year round and build an environment that's more inviting for every walker, bicyclist, young or old. Remember that safety is key so make sure that students learn and practice essential pedestrian safety skills.
Contact the office of Herrman and Herrman if you have been injured. Our office is located at 1201 Third St., Corpus Christi, Texas. Call to set up a free consultation with one of our experienced attorneys at 361-792-2358.