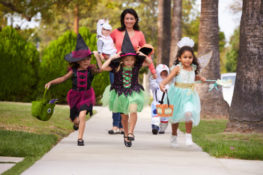 There are a lot of things to be scared about this year including sinister clowns and a daunting presidential election just around the corner, but there's another issue trick-or-treaters should be wary about. According to safekids.org, Halloween is the one day of the year where children are more than twice as likely to be hit by a car and killed. As grim as it may sound, don't let this ghoulish statistic keep you and your loved ones from enjoying your evening. There are things we can all do to ensure that everyone has a safe and fun Halloween. Here are some safety tips provided by the American Academy of Pediatrics (AAP) to follow for tonight.
ALL DRESSED UP:
Plan costumes that are bright and reflective. Make sure that shoes fit well and that costumes are short enough to prevent tripping, entanglement or contact with flame.
Consider adding reflective tape or striping to costumes and trick-or-treat bags for greater visibility.
Because masks can limit or block eyesight, consider non-toxic makeup and decorative hats as safer alternatives. Hats should fit properly to prevent them from sliding over eyes. Makeup should be tested ahead of time on a small patch of skin to ensure there are no unpleasant surprises on the big day.
When shopping for costumes, wigs and accessories look for and purchase those with a label clearly indicating they are flame resistant.
If a sword, cane, or stick is a part of your child's costume, make sure it is not sharp or long. A child may be easily hurt by these accessories if he stumbles or trips.
Do not use decorative contact lenses without an eye examination and a prescription from an eye care professional. While the packaging on decorative lenses will often make claims such as "one size fits all," or "no need to see an eye specialist," obtaining decorative contact lenses without a prescription is both dangerous and illegal. This can cause pain, inflammation, and serious eye disorders and infections, which may lead to permanent vision loss.
Review with children how to call 9-1-1 (or their local emergency number) if they ever have an emergency or become lost.
HOME SAFE HOME:
To keep homes safe for visiting trick-or-treaters, parents should remove from the porch and front yard anything a child could trip over such as garden hoses, toys, bikes and lawn decorations.
Parents should check outdoor lights and replace burned-out bulbs.
Wet leaves or snow should be swept from the sidewalks and steps.
Restrain pets so they do not inadvertently jump on or bite a trick-or-treater.
ON THE TRICK-OR-TREAT TRAIL:
A parent or responsible adult should always accompany young children on their neighborhood rounds.
Obtain flashlights with fresh batteries for all children and their escorts.
If your older children are going alone, plan and review the route that is acceptable to you. Agree on a specific time when they should return home.
Only go to homes with a porch light on and never enter a home or car for a treat.
Because pedestrian injuries are the most common injuries to children on Halloween, remind Trick-or-Treaters:

Stay in a group and communicate where they will be going.
Remember reflective tape for costumes and trick-or-treat bags.
Carry a cellphone for quick communication.
Remain on well-lit streets and always use the sidewalk.
If no sidewalk is available, walk at the far edge of the roadway facing traffic.
Never cut across yards or use alleys.
Only cross the street as a group in established crosswalks (as recognized by local custom). Never cross between parked cars or out driveways.
Don't assume the right of way. Motorists may have trouble seeing Trick-or-Treaters. Just because one car stops, doesn't mean others will!
Law enforcement authorities should be notified immediately of any suspicious or unlawful activity.
History of Halloween and Common Myths
Some people once considered Halloween to be the eeriest time of the year, but for many others today, this great American celebration is one where people can dress up in costumes like their favorite heroes, wandering the neighborhood while little children go trick or treating in colorful style.
The History of Halloween
But how did Halloween really come to be? Its origin can be traced back to some ancient Celtic festival over 2000 years ago called Samhain. The Celtic New Year began on November 1 and so they believed that on the day before the New Year, the boundaries between the realms of the living and the dead were open and unattended and so ghosts and spirits could cross freely into the earth. To protect themselves, people would light bonfires and wear costumes that disguised them from the ghosts.
Sometime in the 8th Century, as the influence of Christianity extended into the Celtic lands, Pope Gregory III designated November 1 as All Saints Day to honor departed saints. Some say the church was trying to place the Celtic festival of the dead with a more church approved one. The preceding day, October 31 was known as All Hallows Eve or the day on which the Hallows Mass was celebrated which is where the name Halloween came from. Centuries going by saw the incorporation of pranks, costume-wearing, trick or treating, carving of pumpkins, and eating of sweet treats into the celebration. Colonists from Britain and the surrounding Islands brought this celebration into the United States, although it was only being practiced in the southern United States as migrants flooded into America from Europe in the 19th Century, they helped to popularize the celebration of Halloween around the country.
3 Common Myths Associated With Halloween
1. People are poisoning the candy:
One common fear of parents during Halloween is that their kids will be given poisoned candy or treats laced with LSD based on the myth that there are Halloween sadists around. But there has been no real evidence to justify such claims. The only proven case of a child dying from poisoned Halloween candy occurred in 1974 when a boy was poisoned by his father on Halloween to claim the insurance money.
2. Halloween is a satanic holiday.
It's quite common to hear people say that Halloween is a celebration devoted to devil worship but the truth is that the early Celtics from whom we got the festival had no conception of the devil as we know it so they couldn't have been worshipping him. Scholars say the ancients Celts were distinctively polytheistic in beliefs and as such had no knowledge of what we call Satanism today.
3. There's no Halloween without pumpkins.
We can't quite imagine Halloween now without pumpkin carvings but the original jack-o'-lanterns were actually carved from Turnips and not pumpkins. People in England often carried the turnips in a practice called 'souling' that involved them asking for food door to door in exchange for prayers for the dead.
Herrman and Herrman enjoy enlightening their readers with these fun-fact/myth-busting articles just as much as we love bringing awareness about current events.  life isn't all fun and games sometimes. We love seasonal holiday fun, but when you or a loved one is injured due to someone's negligence, the fun ends and we buckled down and get serious.
If you have been injured due to the negligence of another, call our office at 361-882-4357 to speak with an experienced attorney and schedule a free consultation. Remember to stay safe, have fun and have a Happy Halloween!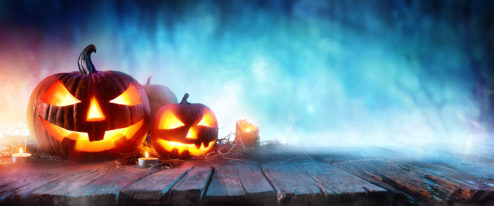 About Herrman & Herrman P.L.L.C: Personal Injury Law Firm
We serve all of South Texas, with offices in Corpus Christi, San Antonio, McAllen, and Brownsville. With over 100 years of combined experience, our attorneys have successfully resolved over 20,000 cases involving car, truck, and motorcycle accidents, as well as injuries caused by faulty products, slip and falls, and workplace accidents. If you or a loved one is ever injured during the holidays be sure to contact us at 361-882-4357 or via our website at   htps://www.herrmanandherrman.com/contact-us/ for your free consultation.