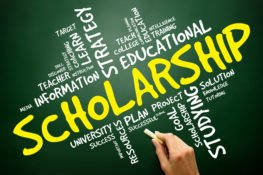 The 3rd Annual Innovation Scholarship essay contest is now available for all students preparing to attend college in the fall or already enrolled in a college or university.
To raise awareness of technology's impact on driving, our attorneys are sponsoring our 3rd annual essay contest with $5,000 in prizes to help students further their education.
SCHOLARSHIP ELIGIBILITY
To enter, students should write a 600+ word essay on the following topic:
What kind of effects do you believe we will face as self-driving cars become more prominent on the roads?
The contest is open to high school juniors and seniors, and students currently enrolled in 2-year or 4-year colleges or universities in the United States.
HOW TO ENTER
For a chance to be awarded our scholarship, answer the above prompt with a 600+ word essay. Email the following items to scholarship@herrmanandherrman.com.
Essay in a Word Document (doc or docx) or PDF
Digital photo of yourself to use as a headshot (jpg or png)
Your full name, school, and phone number
Check out the General Rules for the additional details about entering the contest.
GIVING BACK TO THE COMMUNITIES OF SOUTH TEXAS
Herrman & Herrman, P.L.L.C., has served the communities of Corpus Christi and the Rio Grande Valley for more than two decades and we are dedicated to giving back to the community. We are involved in numerous charitable activities that make a positive impact in South Texas. We know that the young people are our communities' greatest asset. We strongly believe that obtaining a college education is vitally important for young people in the 21st century to have the brightest future and the most fulfilling career. Therefore, we are providing $5,000 in scholarships to help the students pursue their college educations.
We look forward to what you have to say about technology's impact on driving. We wish all contestants that enter good luck and look forward to reading your essays!