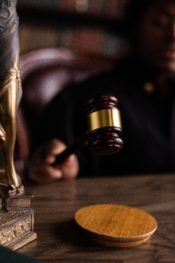 If you have been involved in a car accident in Texas, whether you were struck or accidentally struck someone else, it may be confusing to think about how the car accident's fault will be determined. In some cases, there is fault on both sides. Here's what you need to know about car accident faults in Texas.
When Insurance Companies Come In
Insurance companies will assign an insurance adjuster to your case, who will compile evidence through interviews with witnesses, the parties in the crash, and evidence at the scene. The number one thing to remember is that an insurance company does not determine the final fault if you've been in a car accident and are thinking about how fault will be determined. If an insurance company calls you on the phone to get your statement, do not admit fault for the accident. You may also choose to decline to give a statement politely. While the insurance company will determine who they think is liable for the accident, you can always appeal their determination.
When to Go to Court
If you appeal an insurance company's claim of fault, you can choose to go to court to prove negligence on the part of the other motorist involved. You should seek a qualified automotive accident attorney in Texas to help you through your case.
What Method Does Texas Use to Determine Fault?
Texas uses a method to determine car accident fault called the "modified comparative fault" rule. When the accident's fault seems to be on more than one party's shoulders. Under the modified comparative fault rule, the value of the damage awarded to one party. This determined by the percentage of that party's liability determined by an unbiased jury. However, since Texas's rule is a "modified" approach, it means that if you are determined to be more than 50% at fault for a car accident, you assume all fault and are not eligible to receive a payout for damages.
Contact Herrman & Herrman P.L.L.C. at 361.882.4357
Our firm is equipped with over 100 years of combined experience handling personal injury cases across Texas. Our outstanding record of favorable settlements and verdicts includes over 20,000 successfully resolved cases. Once we take on a case, we are relentless, and you can rely on us to pursue full compensation for you.
You can trust our attorneys to be compassionate and professional.
We will fight hard to obtain a fair settlement for you.
Our firm represents the injured and families who have lost a loved one due to others' negligent acts.
We serve as counsel in a range of injury cases – including car, truck, motorcycle, bicycle, pedestrian accidents, premises liability cases, product liability cases, and medical malpractice claims.
We have the ability to dispatch the Herrman & Herrman Accident Investigative Team to the crash scene to start an investigation and preserve critical evidence.