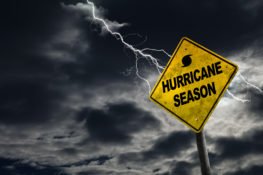 Don't Be Scared. Be Prepared.
Living in the coastal bend, hurricanes are not an uncommon occurrence during hurricane season. Hurricane season starts on June 1st each year and lasts until November 30th.
Hurricanes are enormous, spiraling storms that can let loose more than 2.4 trillion gallons of rain per day and can reach winds speeds of 160 miles per hour. Hurricanes are formed by warm, moist air in combination with warm water. These storms can have a significant impact on individuals, communities, animals, and the environment. Although hurricanes can be beneficial to our oceans and to coral reefs by breaking them down and allowing for new ones to grow, the amount of dissolved oxygen in the ocean, along with rapid salinity changes, can result in vast amounts of dead fish, turtles, oysters, and crabs. The high currents can also cause oil pipelines to break, displace a large amount of sand on the seabed, and relocate shipwrecks.
Strengthen Community Resilience
Some scientists believe that global warming has and will continue to play a large role in hurricanes forming. The latest research suggests that more hurricanes are yet to come, along with higher wind speeds, increased precipitation, and bigger storm surges. Due to global warming, fresh water is warming, sea levels are rising, and ice is melting. It is averaged that sea levels are expected to rise by 1-4 feet during the next century, which is believed will help boost storm surges. Although there is no definite way to prevent a hurricane, there are a number of ways a community can help strengthen their resilience and lessen the impact of a hurricane by:
Preserving coastal wetlands to absorb storm surges
Replenishing beaches and improve infrastructure, such as seawalls
Raising vulnerable buildings to lessen flood damage
Constructing structures to be resilient to any flying debris and high winds
Acting out policies that discourage development in highly vulnerable areas
Know Where to Go
Depending on the strength of the storm, a mandatory evacuation can be put in place by local officials. Some people choose to evacuate voluntarily, while others prefer to wait out the storm in their own homes. Families should have a plan in place if they are forced to leave their homes behind such as:
Check local evacuation routes before leaving home
Make arrangements to stay with family, friends, or at a hotel
Listen to local news and radio stations for continuous updates on weather conditions
Make a supply kit for emergencies with items such as water, food, flashlights, batteries, money, clothes, personal identification, social security cards, as well as necessary medications. (This applies to evacuations and non-evacuations)
Preparing Your Home
There are also ways one can get prepare their home for a hurricane whether they choose to evacuate their home or not.
Covering all windows and doors with hurricane shutters or boards to help prevent damage from flying debris
Staying indoors and away from all windows and doors
Head and foot bolts can be placed on doors for extra protection
Designate a safe room; preferably a room with no windows
Luckily, Corpus Christi has not had a major hurricane in quite some time. The last major one recorded was Hurricane Bret in 1999. Hopefully, this does not mean that we are due for one in the years to come. While hurricanes can be a stressful ordeal for communities and families, it is imperative to always be prepared.
Adverse weather like hurricanes can, unfortunately, often lead to injuries and property damage. It is important to speak to an attorney about your legal rights if you are ever injured due to another person's negligence. Contact Herrman & Herrman PLLC, located at 1201 Third St., Corpus Christi, Texas 78404 if you have any questions about a potential claim or would like to sit down for a consultation and discuss your issue.
*This blog is for informational purposes only and is not intended to, and should not be construed as legal advice.