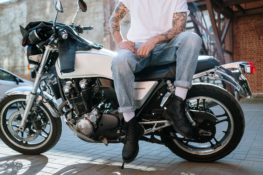 Motorcycles are great for thrills, but they can also be incredibly dangerous. When you're cruising the open road on a great motorcycle, the last thing you want to think about is what to do if you crash. However, it's important to know what the initial steps should be if you do get into an accident. Also, it bears mentioning that you should be properly licensed to operate it before you mount a motorcycle. You should be wearing all the appropriate safety gear like full pants, a protective jacket, and a helmet. Here are some of the most important first steps to take if you have been in a motorcycle accident.
Seek Medical Attention
In any case, where someone is injured, it is imperative to seek proper medical attention and cooperate with all first responders. Once you have tended to your injuries, you can concern yourself with other aspects of the motorcycle accident.
Report the Accident
After you have tended to injuries, you should make sure the accident is properly reported to the local law enforcement department.
 Exchange Contact Information
If possible, exchange contact information, including name, telephone number, email, and home address, with everyone involved in the accident. This will make future dealings with insurance agencies and legal counsel much easier.
 Record Everything You Can About the Crash
If you can, take pictures of everything at the accident site, including damage to cars and the motorcycle. You should also contact anyone who witnessed the accident to get their eyewitness account of the incident.
Keep All Receipts Associated With Your Accident
If you had to incur numerous medical costs associated with your injuries from the accident, keep the hospital or doctor's records. You should also keep receipts for any other payments made as a result of the accident and keep a written record of any changes to your job status.
 Seek Legal Counsel
If you were not at fault for the accident, it is important to contact a personal injury attorney. You may be eligible to recover some of the financial damages you incurred from your injury with the help of a lawyer.
Contact Herrman & Herrman P.L.L.C. at 361.882.4357
Our firm is equipped with over 100 years of combined experience handling personal injury cases across Texas. Our outstanding record of favorable settlements and verdicts includes over 20,000 successfully resolved cases. Once we take on a case, we are relentless and you can rely on us to pursue full compensation for you.
You can trust our attorneys to be compassionate and professional.
We will fight hard to obtain a fair settlement for you.
Our firm represents the injured and families who have lost a loved one due to the negligent acts of others.
We serve as counsel in a range of injury cases – including car, truck, motorcycle, bicycle, and pedestrian accidents, premises liability cases, product liability cases, and medical malpractice claims.
We have the ability to dispatch the Herrman & Herrman Accident Investigative Team to the crash scene to start an investigation and preserve critical evidence.