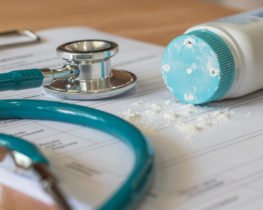 A woman in Virginia has just been awarded $110.5 million in a Johnson & Johnson talcum powder lawsuit. This is the fourth recent case against J&J that shows the company ignored a possible link between its talcum-based products and cancer. The 62-year-old Lois Slemp was diagnosed with ovarian cancer in 2012 and claims her illness was caused by more than 40 years of using J&J talcum-based products, including baby powder. The company has told the Associated Press that it will appeal the verdict disputing the scientific evidence behind the case.
In a 1982 study on the issue, results showed a 92% increased risk for ovarian cancer with women who used talc-based products. Due to this finding, the lead researcher had specifically advised a J&J doctor to place a warning label on their products. However, the company refused and has continued to defend the use of talcum powder in its feminine hygiene products.
So What Is Talcum Powder?
Talcum powder is made from talc, which is a mineral made up mainly of the elements magnesium, silicon, and oxygen. It is mainly used to absorb moisture, help cut down friction, keep skin dry, and help prevent rashes. It is widely used in consumer/cosmetic products such as facial powder and baby powder. According to the American Cancer Society, in its natural form, some talc contains asbestos which is a substance known to cause cancers in and around the lungs when inhaled.
Does Talcum Powder Cause Ovarian Cancer?
Evidence surrounding asbestos-free talc is far less clear and is currently still being used in a majority of households. In 1971, a link between talcum powder and ovarian cancer was discovered by OB/GYNs who found talc in more than 75 percent of the ovarian tumors they investigated. Because of this discovery, many more studies have been conducted and have supported a connection between the two. The International Agency for Research on Cancer (IARC) has deemed talc to be a "possible carcinogen" for women based on these recent studies.
Although there are over 1200 cases currently being pursued against J&J, the company denies that either it's Shower to Shower or Baby Powder products cause ovarian cancer and refuse to place warning labels on these products.
If you have questions or concerns about whether or not these products have led to your ovarian cancer diagnosis, contact the personal injury law office of Herrman & Herrman to speak with an experienced attorney. Call 361-882-4357 to schedule your free consultation today. The following infographic is provided by Velawcity and outlines the history of the talcum powder lawsuit.