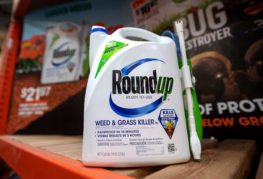 Bayer is about to make history with one of the largest victim payouts in history: a case about the popular herbicide Roundup. You may be familiar with this lawn product if you complete a lot of yard work around your home and have researched the best weedkillers on the market. While Roundup has been effective in killing pesky household weeds, it's also been linked to cancers.
About the Case
After acquiring Monsanto, Bayer is looking to settle the more than 125,000 lawsuits filed against them alleging that Roundup causes cancer. Bayer has cut a total of $10 million in deals to compensate somewhere between 50,000 and 85,000 of these lawsuit filers, but the deals have yet to be finalized. This means the individual deal payouts will range from a few million to a few thousand dollars. Bayer, who has maintained that Roundup does not cause cancer, still faces around 30,000 individual lawsuits from parties that did not choose to be part of the settlement.
Dangers of Roundup
Roundup has been shown to contain glyphosate, a compound that the International Agency for Research on Cancer has called a "probable human carcinogen." If something is carcinogenic, it means that it has the propensity and capability to cause cancers. Bayer and Monsanto have both maintained that glyphosate is safe to use and is safe for the environment. However, many of the legal cases against Bayer have alleged that the glyphosate content in Roundup has caused Non-Hodgkins Lymphoma in users.
What to Do if You're Affected
If you or a loved one have used Roundup in your lawn care routine and later developed Non-Hodgkins Lymphoma, you may be eligible for compensation for the cost you've incurred. You may be able to claim medical expenses, pain and suffering, loss of work or wages, and more. Contact an experienced personal injury attorney or an attorney familiar with the Roundup case to better your chances of being justly compensated for your injury.
Contact Herrman & Herrman P.L.L.C. at 361.882.4357
Our firm is equipped with over 100 years of combined experience handling personal injury cases across Texas. Our outstanding record of favorable settlements and verdicts includes over 20,000 successfully resolved cases. Once we take on a case, we are relentless, and you can rely on us to pursue full compensation for you.
You can trust our attorneys to be compassionate and professional.
We will fight hard to obtain a fair settlement for you.
Our firm represents the injured and families who have lost a loved one due to others' negligent acts.
We serve as counsel in a range of injury cases – including car, truck, motorcycle, bicycle, pedestrian accidents, premises liability cases, product liability cases, and medical malpractice claims.
We have the ability to dispatch the Herrman & Herrman Accident Investigative Team to the crash scene to start an investigation and preserve critical evidence.