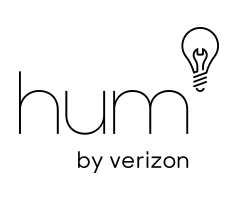 Hum is designed by Verizon to help keep your teen safer when sitting behind the wheel. With motor vehicle accidents serving as the leading cause of death among teenagers, hum can serve as some form of relief to any parent whose teen is on the road. Hum serves as a car expert in a sense so that you and your teen don't have to be. The technology is designed to make your car smarter, safer and more connected to help you monitor your teen's driving habits.
Hum comes with:
The Reader – This is the key to hum's car tracking and problem diagnosing. It taps into your car's computer, 1996 and newer, and plugs right into your OBD-II port.
The Speaker – This is the 'On-Star' like speaker that clips onto your visor so you can reach help with relative ease. It also syncs with your phone for safer, hands-free Bluetooth calling.
The App – This brings all the features right at your fingertips. This enables you to gain access to all data received from the reader along with alerts and advice. To accommodate all users, the app is offered on both iOS and Android for free.
Features:
Decodes engine lights
Offers advice from their mechanic hotline
Remembers every oil change
Sends out timely reminders
Lets you know of any potential problems
Helps to locate car
Offers roadside assistance
Monitors driving speed
Sets boundary alerts
Parents will enjoy being able to set parameters, speed limits and safety guidelines without being overbearing. Likewise, teens can appreciate the innovative and convenient approach to what is a very freeing moment for their lives. Getting your driver's license and taking to the open road is a thrilling experience for young drivers. With Hum, at least that experience can be a safe and smarter one.