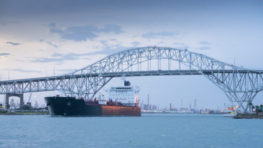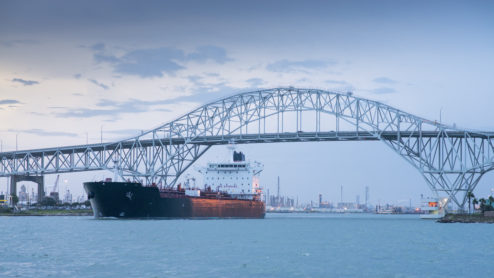 The Texas Department of Transportation (TxDOT) announced the availability of the Record of Decision (ROD) for the proposed construction of the US 181 Harbor Bridge Project improvements in Nueces County, Texas. A helpful website with all plan details can be found at the following link: https://ccharborbridgeproject.com/
"With the ROD signed by the Federal Highway Administration on January 8, 2016, TxDOT may now begin the final design and construction of the project. The project limits include:  US 181 at Beach Avenue on the north; Crosstown Expressway at Morgan Avenue on the south; I-37 and Up River Road on the west; and I-37 and Shoreline Boulevard on the east.
The project would replace the existing Harbor Bridge and reconstruct portions of US 181, I-37 and the Crosstown Expressway. The improvements would consist of constructing a six-lane controlled-access facility within a right-of-way width that varies between 200-430 feet, three lanes in each direction with a median barrier, shoulders and a bicycle and pedestrian shared-use path on the main span of the bridge and approaches.
The ROD identifies the Recommended Alternative as the selected alternative for construction of the US 181 Harbor Bridge Project. It also presents the basis for the decision, summarizes the mitigation measures that will be incorporated into the project, and summarizes the responses to comments received on the Final Environmental Impact Statement.
Project Background
The Texas Department of Transportation (TxDOT), Corpus Christi District, is determining whether the Harbor Bridge, which spans the Corpus Christi Ship Channel at U.S. 181, should be replaced. A Feasibility Study completed by TxDOT in 2003 concluded that U.S. 181 and the Harbor Bridge must be improved to maintain a safe and efficient transportation corridor.
With substantial public input, TxDOT is preparing an Environmental Impact Statement (EIS) that evaluates several potential alignments for a new bridge, as well as a "no-build" scenario (leaving the current bridge in place)."
The project will stretch approximately 5.7 miles in length, reaching into the Northshore area and also extending onto Highway 37 in Corpus Christi, TX. "The project is being developed under Section 6002 of Public Law 109-59, "Safe, Accountable, Flexible, Efficient Transportation Equity Act: A Legacy for Users," (SAFETEA-LU), enacted on August 10, 2005. SAFETEA-LU implemented the development of a Coordination Plan for all projects for which an environmental impact statement (EIS) is prepared under the National Environmental Policy Act (NEPA) of 1969."
For updates on the bridge please visit the website listed above.