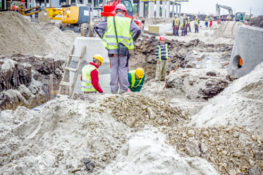 When we say someone has been "in the trenches," we mean they have done the tough, grueling work that had to be done. People in the construction industry can relate to this, but for some, being in the trenches is what they literally do every day. And unfortunately, working in trenches can be very dangerous if proper precautions are not taken.
The federal Occupational Safety and Health Administration (OSHA) reports that two workers are killed every month in trench collapses. This statistic may sound surprising, but consider that one cubic yard of soil can weigh as much as a car; even a fraction of that much weight falling on someone could be deadly.
OSHA has a number of rules governing the construction of trenches as well as the working conditions in them. Trenches greater than 5 feet deep require a protective system (in other words, stabilizing "walls" installed into the trench). If the trench is deeper than 20 feet, that protective system must be designed by a registered professional engineer.
Workers must also be able to easily get out of a trench. Trenches deeper than 4 feet must have ladders, steps or ramps, and these exits cannot be farther away than 25 feet from any worker.
Cave-ins are the most likely risks for those who work in trenches, but other risks exist as well, such as falls, falling loads and breathing problems such as hazardous fumes and low oxygen.
Workers in Texas are protected by federal OSHA regulations, and the Texas Department of Insurance (TDI) has a free program to help employers comply with these regulations. The program, called OSHCON (Occupational Safety and Health Consultation) teaches employers how to maintain safe work sites, and they even have a program devoted to proper trenching safety.
If you're a worker and you see potential safety violations in a trench or any other workplace, you can report it to TDI on their safety violations hotline at 800-452-9595. If, however, those safety violations are responsible for someone being injured, you should call an experienced personal injury attorney to discuss your legal rights and options. Call the Herrman & Herrman law firm at 361-792-2358 to schedule a free consultation today!