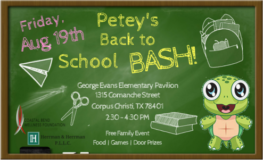 The school year is almost here and you know what that means! Petey's Back to School Bash is just around the corner. Join us on Friday, August 19th at the George Evans Elementary Pavilion from 2:30-4:30 pm. The first 300 students that attend will receive a free backpack filled with school supplies. Participants will have a card, which can be picked up at the registration table, and will require the signature of five different vendors in order to receive the backpack. The mobile clinic will also be there to offer immunizations, exams, and physicals. What a great way to kick off the school year!
PETEY, a friendly turtle, who loves to mingle and share a drug-free message at community events will also be attending. So be sure to stop by, say hello and snap a photo. Friday is also "Meet the Teacher" so there will be free food, games and door prizes to go around. The event will be outside so cool clothing is encouraged.
We'll see you August 19th at the George Evans Elementary Pavilion!
A special thanks to the Coastal Bend Wellness Foundation and their Project Turnaround which provide prevention education presentations to the community, and host annual community events such as Petey's Back to School Bash, Break the Norm and Tobacco-Free Kids Day.