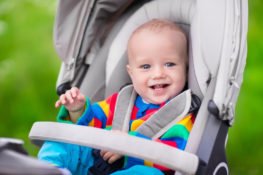 Stroller manufacturer Graco recently recalled about 4.7 million of its U.S. strollers due to a potential product liability risk of laceration or amputation, according to the U.S. Consumer Product Safety Commission (CPSC). Another 202,000 Graco strollers have been recalled in Canada, and 10,300 in Mexico. The recall involves 11 models under the Graco or Century labels.
The hazard risk is the folding hinge on either side of the stroller pinching a child's fingers, causing lacerations or amputations. According to the CPSC, Graco has received at least 11 separate reports of children sustaining finger injuries – six involving a fingertip amputation, four a partial amputation, and one involving a laceration.
Steps to Take If You Own a Recalled Graco Stroller
If you own a single occupant Graco Stroller that was manufactured between Aug. 1, 2000, and Sept. 25, 2014, it is likely your stroller is on the Graco recall list. Stroller models currently included in the recall are: Aspen, Breeze, Capri, Cirrus, Glider, Kite, LiteRider, Sierra, Solara, Sterling, and TravelMate Model Strollers and Travel Systems. You can obtain model numbers of recalled strollers on the CPSC website. The recalled models have an external sliding fold-lock hinge on each side and a one-hand fold release mechanism on the handle.
Owners of recalled Graco strollers are advised to contact the company right away to obtain a free repair kit, available as of December 2014. Until repairs are made, parents and childcare workers should exercise extreme caution when using any of the recalled strollers. To help prevent a stroller from accidentally folding, hinges must be securely locked into place prior to a child being placed in the stroller.
Product Liability Claims: How to Prove Fault for Injury
Product manufacturers and sellers have a responsibility to keep defective and faulty products out of the hands of consumers. A manufacturer can be liable for injuries caused by a design defect, error in the manufacturing process, or failure to provide adequate instructions or warning labels.
Proving product manufacturer negligence has four elements:
The manufacturer owed a duty of care to you
The manufacturer breached that duty
The breach is what caused your injuries
You were injured as a direct result of the manufacturer's actions
Product liability cases can also be based on strict liability. Under strict liability, a product manufacturer is liable if a product is defective, even if the manufacturer was not negligent. Another theory of liability is breach of warranty, which focuses on express promises (warranties) by a manufacturer about the product, or implied promises that the product is reasonably safe for its intended use.
Sources:
U.S. Consumer Product Safety Commission: Graco recalls 11 models of strollers due to fingertip amputation hazard
KRIS TV: Graco recalls 4.7M strollers