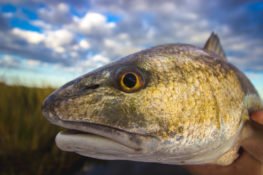 Anglers Catch Large Fish After Major Thunderstorm
The Rio Grande Valley is full of natural beauty and is a popular vacation spot for bird watching enthusiasts. There are many resorts like the South Padre Island where people come to soak the sun on the sandy beaches, enjoy the warm water and of course, catch fish.
South Padre Island was hit by a major thunderstorm last month, but as soon as the weather cleared, anglers went rushing to the sea to catch monstrously huge bull redfish. The fishermen, who struggled a bit trying to catch these giant fish, wanted to stuff them for a keepsake. The local taxidermist, Sandy Margret, reported that she had been swooped with requests from anglers for mounting throughout the week. She said that catching these huge and impressive redfish is quite a job, and fishermen want to store them for their memory. She was also surprised that anglers were able to catch redfish during this season because they normally don't appear in the bay until late fall.
One of the lucky anglers to catch this magnificent fish was Captain David Leal of Island fishing charter. One of the bull reds that Leal caught measured over 40 inches. He thinks that these fish might have traveled into the Laguna Madre from the runoff water from Arroyo Colorado and spillway after the storm, which is why fishermen are able to catch so many redfish. He also thought that seeing these big bulls during this time of the year was a bit unusual. Leal said that catching these fish is a once in a lifetime experience. They weigh between 25 and 35 pounds and are very difficult to reel in. The struggle to bring in the fish can last for nearly an hour. He feels lucky to have caught a giant one and wants to mount it on his wall just like the other fishermen.
More Wildlife Activities in Rio Grande Valley Area
The excitement of Rio Grande Valley does not end here. Just south of Padre Island lies another hidden treasure, the Boca Chica Beach. It is a secluded place providing the perfect coastal environment for a relaxing holiday getaway. This beach is part of the Rio Grande Valley National Wildlife Refuge, and wild animals have a free pass to travel between the Gulf Coast and the Rio Grande. This place is an excellent spot for birdwatching, and you can find a lot of amazing animals here including the Ridley sea turtle and the Aplomado Falcon.
There is also the Gladys Porter Zoo close by which is spread over 26 acres and has more than 1500 animals. It is a conservation center for wildlife too. Recently, the zoo veterinarians rescued a tiger cub after it was found abandoned at Brownsville. The authorities say that it was probably getting smuggled across the border, but the Border Patrol was able to find it in time. The tiger cub is not on display at the moment but is recovering very quickly thanks to the dedicated staff at the zoo.