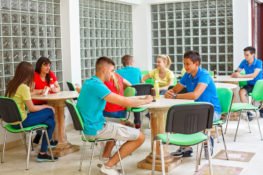 As summer gets underway, children from across the Rio Grande Valley will be able to receive free meals. Children 18 and younger will be able to receive these meals through summer feeding programs throughout the Valley's school districts. McAllen school district alone will have 40 sites where children can pick these up.
Most sites and schools will offer these meals Monday through Friday, serving breakfast, lunch, and dinner. Others will focus on snacks and dinner. The times vary but mostly running anywhere from 7:30 am to 7 pm depending on the site, school, and location. Each site will serve two meals a day with children having the opportunity to get up to 4. The Texas Department of Agriculture has a telephone number in addition to the school district website where community members can receive information about the programs.
Some school districts such as Mission, Edinburg, Pharr-San Juan-Alamo and South Texas are offering these same programs through the Texas Department of Agriculture and the United States Department of Agriculture's Summer Seamless Option or the Summer Food Services Program.
These meals are provided without charge to the children as well as to those who are over 18 but have a mental or physical disability determined by a state or local education agency and participate in a public or private school program for people with mental or physical disabilities.
These programs have become something of the norm of the past few years throughout the Rio Grande Valley and really help and benefit those children and families who depend upon these meals throughout the week.
It's great that the school district and state and local agencies are stepping up and looking out for these children especially in the Rio Grande Valley where the poverty rate is well above the national average.
The meals are served fresh and served while hot so please if you have a child who is in need take part in these programs throughout the region as schools seasons are ending and now upon us. These programs will for the most part run from June-August.
Those who would like to text can send the text FOODTX or COMIDA to 877-877 for information in English or Spanish, calling 211 for over the phone information or visiting summerfood.org.
Spread the word to anyone you know about this who may benefit from these great programs offered.