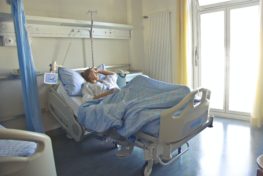 In 2018, it was reported that the big-name personal care and home hygiene manufacturer Johnson & Johnson was knowingly providing baby powder products contaminated with asbestos, a known cancer-causing mineral. However, Johnson & Johnson did not reveal this fact to any of their distributors or individual consumers. The fact that the company knew this and did not disclose the information makes them guilty of negligence in the cases of any of their consumers who developed cancer due to the baby powder.
About Johnson & Johnson Baby Powder
Johnson & Johnson's baby powder products are used topically and cosmetically, meaning that the talcum powder containing asbestos could be easily inhaled or ingested by a user. After denying the presence of asbestos in their talcum powder products, Johnson & Johnson eventually issued a baby powder's voluntary recall.
Dangers of Johnson & Johnson Baby Powder
The asbestos in Johnson & Johnson's baby powder and other manufacturer's baby powders is known to be a cancer-causing mineral. The asbestos found in these powders causes mesothelioma and ovarian cancer—two very costly and painful conditions for anyone afflicted.
What to Do if You or a Loved One Develop Cancer as a Result of Using Baby Powder
Suppose you or a loved one used contaminated baby powder from Johnson & Johnson and developed cancer. As a result, you may be curious about what courses of action you can take to get justice. It's important to know that Johnson & Johnson was negligent because they knowingly distributed the baby powder contaminated with asbestos. That means that you may be eligible for costs.  Costs associated with medical expenses from your cancer and for any potential pain and suffering. If you can prove, the asbestos was the direct cause of your cancer. Contact a personal injury attorney with knowledge of the Johnson & Johnson baby powder case so that you can get what you deserve.
Contact Herrman & Herrman P.L.L.C. at 361.882.4357
Our firm is equipped with over 100 years of combined experience handling personal injury cases across Texas. Our outstanding record of favorable settlements and verdicts includes over 20,000 successfully resolved cases. Once we take on a case, we are relentless, and you can rely on us to pursue full compensation for you.
You can trust our attorneys to be compassionate and professional.
We will fight hard to obtain a fair settlement for you.
Our firm represents the injured and families who have lost a loved one due to others' negligent acts.
We serve as counsel in a range of injury cases – including car, truck, motorcycle, bicycle, pedestrian accidents, premises liability cases, product liability cases, and medical malpractice claims.
We have the ability to dispatch the Herrman & Herrman Accident Investigative Team to the crash scene to start an investigation and preserve critical evidence.