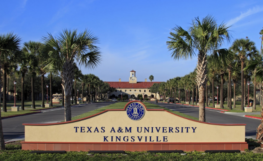 Texas A&M University Kingsville has received a $5 million grant to start a Center for Research Excellence in Science and Technology for sustainable water use.
The 5-year grant from the National Science Foundation will kickstart a program to research and collaborate on creating sustainable water in an ever-changing climatic setting such as Kingsville and throughout the rest of South Texas where drought conditions are highest in the nation and have been and continue to be.
Global warming has ensured that this is something that needs to be researched and studied for the future to be ahead of the curve on what may come. The goal of this grant is to help preserve water and energy from these areas and educate on how to do that.
This $5m grant is a great start but when people think of Texas and how dry and big it is, it really is a drop in the bucket and more needs to be given to all the colleges in order to study this issue and develop techniques for what could be life-saving for some if conditions get worse and water becomes more scarce.
Texas A&M University Kingsville is on the right track with this. Water use is an often-overlooked thing that the public takes for granted but is essential to survive and it's the students and researchers behind the scenes with grants like these that keep this source of survival in the plenty and not the few.
All the colleges and universities in the state need to be innovative and apply for grants and other programs that will look after the greater good of themselves, their schools, the public, and the future.
The future needs to be looked out for and with temperatures on a whole continuing to rise. The world is getting more and more populated so there is more demand for clean water.
Here is to hoping this becomes a grant that keeps happening as this needs to be heavily studied and researched and hoping Texas A&M University Kingsville puts it to good use and spurs on others to do the same before its too late for anyone to do anything.