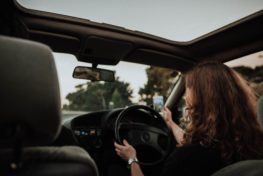 Distracted driving is one of the leading causes of car accidents. For that reason, it's important to pinpoint some of the top distractions so that you can mitigate them and therefore become a safer and more focused driver. If you are looking for ways to cut back on a distraction so you can focus on the road ahead of you and stay safer, here are some of the top distractions that can cause accidents.
Daydreaming
If you're stuck driving on a long-haul trip, it may be easy to slip into a daydream of being somewhere else or doing something else. However, you must remember that you are in the car, on the road, and you have to be present and alert on your trip.
Eating or Drinking
Eating and drinking is one of the leading distractions while driving, so make sure you keep the snacks at home and only eat or drink while parked at rest stops or drive-thru fast-food restaurants.
Fellow Passengers
It's fun to have a companion while on a drive, but it's important that conversations in the car don't get too distracting so they take away from the task at hand: delivering everyone safely to their destination.
Pets
While sometimes unavoidable, it's best to leave your furry friends at home while you're on a drive, especially a long one. Caring for a pet while driving can be extremely distracting.
Reaching for Something
Reaching for something in your car is one of the top distractions, especially because it often takes your eyes off of the road for an amount of time. Remember that whatever you're reaching for can certainly wait until after you've stopped the car.
Changing the Radio or Song
Fiddling with the radio, switching a CD, or changing the song on your iPod or phone can be extremely distracting. Pro tip: make a playlist of your favorite driving tunes and put it on shuffle, so you'll never have to skip songs.
Texting or Fiddling with Your GPS
Everyone knows to text while driving is one of the top causes of car accidents. In the same vein, try to avoid messing with a GPS application on your phone.
Contact Herrman & Herrman P.L.L.C. at 361.882.4357
Our firm is equipped with over 100 years of combined experience handling personal injury cases across Texas. Our outstanding record of favorable settlements and verdicts includes over 20,000 successfully resolved cases. Once we take on a case, we are relentless and you can rely on us to pursue full compensation for you.
You can trust our attorneys to be compassionate and professional.
We will fight hard to obtain a fair settlement for you.
Our firm represents the injured and families who have lost a loved one due to the negligent acts of others.
We serve as counsel in a range of injury cases – including car, truck, motorcycle, bicycle, and pedestrian accidents, premises liability cases, product liability cases, and medical malpractice claims.
We have the ability to dispatch the Herrman & Herrman Accident Investigative Team to the crash scene to start an investigation and preserve critical evidence.