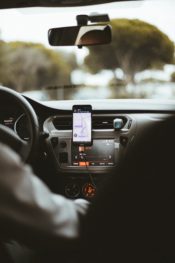 Being able to hail a ridesharing car with your phone is one of the best modern conveniences of our time. However, it can also be one of the most dangerous activities we partake in if we do not practice proper safety when riding. If you're a frequent rideshare user, whether through Uber, Lyft, or another service, here are some of the top safety tips to keep in mind while riding to your destination.
Double Check the Driver's Identity
Make sure that when your driver arrives, you confirm their first name with them, and that you confirm that they are in the right car. This includes the make, model, and color of the car, as well as the license plate number.
Have the Driver Confirm Yours
After you've confirmed that you're in the right car, ask your driver who they are picking up for. This ensures that they will have to confirm your identity as well, so you know you're getting in the right car with the right driver going to the right destination.
Choose a Safe Location for Drop Off and Pickup
It is recommended that you stay inside of where you're getting picked up until your ride is outside. This limits the amount of time you spend outside, alone, with your phone out. Additionally, make sure your drop off location is a safe one, whether it's your home or a restaurant.
Make Sure You Wear Your Seatbelt
This tip is a given. In any car, whether you're ridesharing or riding with your best friend, you should always be wearing a seatbelt and using proper "car safety hygiene," including keeping your legs off the dashboard and your limbs inside the vehicle.
Share Your Ride Details With a Trusted Friend
Even if you're riding in the Uber alone, you can still share the ride. Make sure you send your ride details, including where you're coming from and where you're going, as well as your driver's name, car, and license plate number with a friend. Uber also has a "share trip status" functionality that allows you to give your friend an ETA for your ride.
Contact Herrman & Herrman P.L.L.C. at 361.882.4357
Our firm is equipped with over 100 years of combined experience handling personal injury cases across Texas. Our outstanding record of favorable settlements and verdicts includes over 20,000 successfully resolved cases. Once we take on a case, we are relentless and you can rely on us to pursue full compensation for you.
You can trust our attorneys to be compassionate and professional.
We will fight hard to obtain a fair settlement for you.
Our firm represents the injured and families who have lost a loved one due to the negligent acts of others.
We serve as counsel in a range of injury cases – including car, truck, motorcycle, bicycle, and pedestrian accidents, premises liability cases, product liability cases, and medical malpractice claims.
We have the ability to dispatch the Herrman & Herrman Accident Investigative Team to the crash scene to start an investigation and preserve critical evidence.