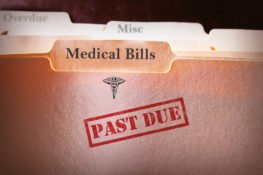 Medical Providers Using "Balance Billing"
Medical providers such as hospitals, doctors, or other healthcare providers have a practice called "balance billing." Balance billing is when a medical provider bills the patient for the difference between the provider's charge and the allowed amount by the patient's own health insurance. This is typical for out of network physicians, who are not bound by a contractual "in-network" agreement. Because of this, they have the ability to bill the patients for the entire remaining balance.
Balance billing occurs in a couple of ways. The first instance when balance billing occurs is when a health provider charges more for a service provided than what the health insurance company allows. For example, your health insurance provider may only allow up to $100 for a specific service. Meanwhile, a provider may set their own charge at $150 for that specific service. The provider may then turn around and bill you the remaining $50 which your health insurance did not cover. The second instance when balance billing occurs is when, a patient receives medical care from a provider who is believed to be "in-network," but it later turns out the medical provider is not "in-network".
Texas Department of Insurance Provides Protections
The Texas Department of Insurance (TDI) has a consumer protection program that is helping people. It helps people with surprise medical bills. A Texas law has allowed many consumers to seek mediation when their balance exceeds $500. As stated on their website, "If you were surprised to get a bill from a doctor, hospital, or other health care provider that isn't part of your health plan's network, we might be able to help."
According to the Texas Department of Insurance, balance billing complaints are up 1,000 percent in Texas. That's quite a  large number of complaints! Over the last few years, the balance billing complaints have risen significantly from 112 complaints in 2012 to 1,334 complaints in 2015.
Beyond seeking help with the Texas Department of Insurance, consumers have other options. Another option consumers have is to try to negotiate with the medical provider themselves. This may work in their favor. Many providers provide payment plans. They may also agree to provide discounts if you pay in cash immediately. Of course, this all depends on the provider and what they offer.
About Herrman & Herrman P.L.L.C: Personal Injury Law Firm
We serve all of South Texas, with offices in Corpus Christi, San Antonio, McAllen, and Brownsville. With over 100 years of combined experience, our attorneys have successfully resolved over 20,000 cases involving car, truck, and motorcycle accidents, as well as injuries caused by faulty products, slip and falls, and workplace accidents. If you or a loved one is ever injured by another driver while traveling during the holidays be sure to contact us at 361-882-4357 or via our website at   htps://www.herrmanandherrman.com/contact-us/ for your free consultation.