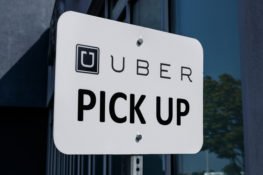 The 2018 elections are just around the corner with early voting beginning October 22 and election day on November 6. Plenty of organizations and companies around the nation are taking the extra step to help support our democratic process. Companies such as Uber and Lyft have offered to do their fair part by helping voters get to the polls on election day.
By downloading either app, voters will have easier access to get to and from the polls.
Here is what Uber is doing to make it easier for citizens everywhere to vote:
Get to the Polls Button: On Tuesday, November 6, anyone in the U.S. will be able to quickly find their polling place and book a ride to go vote—with just a few taps in the Uber app. (Make sure you're using the latest version of the app.)
Free Rides to the Polls: To help the millions of Americans who cite transportation barriers as the reason they don't vote, Uber will be partnering with #VoteTogether and Democracy Works to provide free rides to the polls.
Uber for Campaigns: Any campaign or organization can use our existing Uber Events offering to purchase and distribute promo codes for rides to the polls on Election Day. Additional ways to arrange and pay for rides on behalf of others are available at uber.com/business.
Decisions get made by those who show up. This Election Day, Uber will be doing what we can to make it easier for people to do just that. On November 6, I hope everyone does one thing: vote! -UBER
Here is what Lyft is doing to make it easier for citizens to vote:
50% off promo codes with our partners that encourage voter turnout. Lyft is thrilled to be working with Vote.org, Nonprofit Vote, TurboVote and more to help distribute codes to those who need them. They'll also have a product integration to help passengers find their polling location.
For underserved communities, Lyft will provide rides free of cost through nonpartisan, nonprofit partners, including Voto Latino, local Urban League affiliates, and the National Federation of the Blind.
Source:https://blog.lyft.com/posts/2018/8/22/get-out-the-vote


At Lyft, we're working to improve lives by connecting people and their communities through the world's best transportation. This Election Day (Tuesday, Nov. 6), we want to help people across America exercise their right to vote. -LYFT