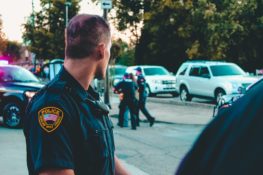 If you're making a personal injury claim, witnesses can definitely be a helpful force in your case. The witness's role is to provide their truthful, on-the-ground account of what they saw in the incident in question. Their vital and impartial information can help the judge or jury decide who was at fault for your injury. However, witnesses can be tough to manage when they may be people you do not know and cannot contact easily. If you wait too long to get their account of the events, they may have forgotten what they saw. Here are some ways you can manage the witnesses involved in your personal injury case.
How to Contact a Witness You Don't Know.
If you're trying to find a witness to a personal injury incident and you're not sure where to start, check the police report if you reported the incident when it happened. Police typically record the names of anyone who sticks around to provide their account; this is especially the case in automobile accidents or hit and runs. You may also need to travel back to the incident scene to talk with people within sight of the area. They may be able to provide you with the names of people in the area that day. Once you contact the witnesses, make sure you ask their permission to write down an account of what they saw that day. Then, please send it to them or read it back to them to make sure it is accurate to their memories.
How to Contact a Witness You do Know
If you already know the witnesses to your personal injury, this should be a bit easier. Ask them to write up an account of what happened for you to provide in court or to the insurance company. Additionally, if the person was also a witness to any of the other effects of your personal injury, like loss of work and wages or pain and suffering, make sure they are willing to provide a statement on that as well.
Contact Herrman & Herrman P.L.L.C. at 361.882.4357
Our firm is equipped with over 100 years of combined experience handling personal injury cases across Texas. Our outstanding record of favorable settlements and verdicts includes over 20,000 successfully resolved cases. Once we take on a case, we are relentless, and you can rely on us to pursue full compensation for you.
You can trust our attorneys to be compassionate and professional.
We will fight hard to obtain a fair settlement for you.
Our firm represents the injured and families who have lost a loved one due to others' negligent acts.
We serve as counsel in a range of injury cases – including car, truck, motorcycle, bicycle, pedestrian accidents, premises liability cases, product liability cases, and medical malpractice claims.
We have the ability to dispatch the Herrman & Herrman Accident Investigative Team to the crash scene to start an investigation and preserve critical evidence.