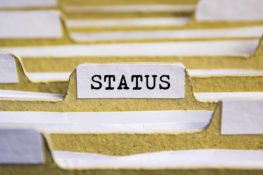 Typically after a client is signed and they have been to a few treatments with the chiropractor they call their attorney and ask, "What is the status of my case?" This is a very difficult question for the attorney to answer. The client does not realize that the case has actually just begun.
When a client is first signed, the only real status update that can be given is: whether the police report has come in, or whether the adverse party has valid insurance. Those two things the attorney can usually find out within the first month of signing the client. However, there are instances when insurance coverage cannot be determined for quite some time. All cases are different.
While months may go by and the client thinks they're waiting and waiting for the attorney to settle the case, it is actually quite the opposite. In order for the attorney to maximize value for your case, they are waiting for you to finish up treatment. The attorney needs all the bills and records from your accident in order to resolve your claim for its true value. The attorney needs to know the full extent of your injuries in order to negotiate and resolve your claim.
Clients call the attorney all the time asking, "What is the status of my case?" The majority of the time I believe what they are actually doing is just touching base with the attorney. Because a personal injury claim can take months to be resolved, clients want to hear from the attorney and know there have been no changes and everything is where it should be in order for settlement down the road. It is a good idea to call your client every so often to inform them of where you are in the treatment process. While attorneys will reach out and check on you in their normal rotation, they want to know if you have any sudden changes in your case such as you moving to another location, loss of job, etc.
Here at Herrman & Herrman, P.L.L.C we strive to keep the client informed and updated on the status of their case. It is important that the client understand where they are in the complicated legal process. After all, that is why they hired an attorney in the first place.
If you or someone you know has been involved in a car wreck in Corpus Christi or the Greater Rio Grande Valley call Herrman & Herrman, P.L.L.C. at 361-882-4357.