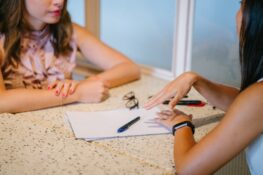 If you have been in a car accident and believe you are not at fault for the incident, you may be wondering if you could be eligible for compensation. The best way to win the damages you think you may be owed is by retaining the help of a personal injury attorney with experience in car accident cases. They can help guide you through your case and will aid in the entire process. If you're curious about what you should bring with you at your first consultation about your car accident case, here's a brief guide.
Police Report
Bring along your police report filed after the accident. That should include most of the facts of the incident and relevant information like date and location.
Any Evidence You Have Collected
If you took photos of your accident's damage, it's a good idea to bring those to your consultation. This includes damage to the vehicles at the scene and photographs of any injuries you or the others involved incurred from the accident.
Insurance
You should always bring proof of your car insurance and any gap insurance. When you file a claim or pursue a personal injury case from a car accident. If you were driving without car insurance, you might not be eligible to recover any of your accident costs. 
Medical Records
Suppose you had to go to the hospital or seek other medical attention due to your accident. In that case, you should bring the relevant medical records with you when you meet with your personal injury attorney. Often, these costs are ones that you could pursue compensation for.
Witness Accounts
Bring along any witness accounts you have from your accident as supporting evidence in your case.
List of Your Questions
Don't let your appointment end without getting the answers to the most critical questions. Ensure you bring a list of your relevant questions to don't leave the consultation with any misunderstandings.
Contact Herrman & Herrman P.L.L.C. at 361.882.4357
Our firm is equipped with over 100 years of combined experience handling personal injury cases across Texas. Our outstanding record of favorable settlements and verdicts includes over 20,000 successfully resolved cases. Once we take on a case, we are relentless, and you can rely on us to pursue full compensation for you.
You can trust our attorneys to be compassionate and professional.
We will fight hard to obtain a fair settlement for you.
Our firm represents the injured and families who have lost a loved one due to others' negligent acts.
We serve as counsel in a range of injury cases – including car, truck, motorcycle, bicycle, pedestrian accidents, premises liability cases, product liability cases, and medical malpractice claims.
We have the ability to dispatch the Herrman & Herrman Accident Investigative Team to the crash scene to start an investigation and preserve critical evidence.