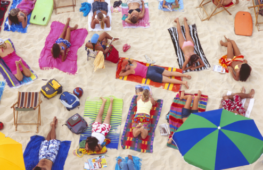 One of the busiest and most anticipated weeks of the year, spring break has become an annual tradition for students, families, and tourists alike to travel across the United States. Many coastal cities make their home to countless visitors during spring break and profit beaucoup money because of it. Corpus Christi is one of those destinations that welcomes thousands of visitors during the month of March as students travel from their campuses and flock to the beaches of Port Aransas and Padre Island.
Last year, a total of 21 people were picked up for DWI's and another 340 were given traffic citations. This is all in one week! While these numbers seem high, police officers can only do so much. Port Aransas, one of the busiest spots on Padre Island, has set up a curfew for drinking on the beach this year which means anyone caught drinking on the beach after 6pm may be ticketed. This will only be in effect for the week of March 12th to the 20th. Port Aransas Police Chief Scott Burroughs stated that the consequences for drinking on the beach will be similar to "parking violations or as serious as a public intoxication charge". Rest assured that the city and local authorities are doing their part to keep everyone safe during spring break, however, so should you. Do not leave it up to a handful of cops to ensure your safety.
Here are some helpful tips on how you and your friends can stay safe and alert this spring break:
Know the Law! It is vital to always be aware of the drinking laws in your area. Making sure you are on the right side of the law and not breaking any will ensure you have a safe and friendly experience.
Don't Drink and Drive! Seriously, there are many other options besides getting behind the wheel intoxicated. Assign a designated driver alternating every day. During this time there is a 'No Questions Asked' campaign used to prevent drunk driving. Cab/towing companies will offer free towing and rides for those who may overindulge. Write this number down: (361)-853-0003 to get a cab/tow truck (no Uber in Corpus Christi) to pick you or your car up for free.
Leave Your Expensive Stuff at Home! If you must bring valuables, make sure everything is placed in your trunk BEFORE you reach your destination or kept in a safe in your hotel room.
Bring a Map! "That's okay, I have google maps". What happens when you forget to charge your phone or have been out in the sun all day and can't remember where you paced the charger? Do not rely on your cell phones to be there when you need them. Have a backup plan.
Grab a Card! If you are like most people and will be staying in a hotel with a couple of friends, be the smart one. Grab a card from the front desk of the hotel just in case you need help getting back. Write down any numbers that may be important on the back of the card such as the police station, or a cab company (the number posted above).
Go to the ATM in Groups! This is prime time for identity thieves to prey on unsuspecting tourists swiping their cards left and right. Go with a group of friends to the ATM to ensure no one is watching or trying to rob you.
Set Limits! While in a sober state of consciousness, set up a time to head back home and a place for everyone to meet. Place a limit on how much you should drink and so forth. Before you get hammered and have no idea where your friends are or why you're riding on the back of a golf cart in the middle of the beach, make plans early on to prevent catastrophes from happening later. The National Institute on Alcohol Abuse and Alcoholism (NIAAA) has a website that covers both facts and myths associated with college drinking along with an interactive guide on how alcohol affects the body.
Keep Your Eye on the Rye! Pace yourself and be sure to keep your drink with you at all times! Take your drink with you wherever you go.
Be Aware of the Flag Warning System! It is okay if you have never heard of this before, honestly not many people know what the flag warning system is, but this will protect you from exposing yourself to dangerous waters. They work the same way a traffic light does in that each color represents a particular course of action. These will usually be posted as you enter the beach, and have three colors you need to know.

Red: Do not go in. This means that there is a strong undertow and riptides. You do not want to frolic in the water if this is posted.
Yellow: USE CAUTION! This means that there are some undertow and riptides. Just be aware of what you are doing and how far you go out into the water, and try to stay close to shore.
Green: JUMP IN! This is the color you want to see posted. This means the water is calm and safe.

Swim with a Buddy! You are here to have fun and enjoy the week with some really great friends, don't be selfish, go in pairs or groups for all the things you do. Staying together ensures you all leave together.
Bring Tools! This one is a must! Locals know all too well that getting stuck in the sand is the last thing you want to happen, but its spring break and many things happen that we don't plan for. Pack a shovel, a flashlight, and rope to ensure you're ready for any tough situation.
To view beach and safety regulations visit the Corpus Christi Parks and Recreation page at this link.
Remember! This is not Las Vegas, what happens here will not stay here and it will follow you. Don't do anything you wouldn't do back on campus or in any other place.
Things to do?
Hurricane Alley will be open March 9 -17th from 11 – 6pm. Admission is $10
Cassidy's Irish Pub will throw a family friendly St. Patrick's Day block party March 12th from 5pm – midnight.
Spring Break on the Coast: Concrete Street Amphitheatre will host a concert on March 15th, tickets start at $27.76. Bands Include: Randy Rogers, Casey Donahew, Kevin Fowler, Cody Johnson and much more!
George Lopez will be in town March 15th at the American Bank Center. Tickets are on sale starting at $39.50.
The Harbor Ferry will shuttle people to North Padre Island for $3 round trip March 9-17th.
The Japonica will provide one hour boat tours of the bay for $10.
Padre Island offers horseback riding for $65 per person.
See what else Corpus Christi has to offer here.