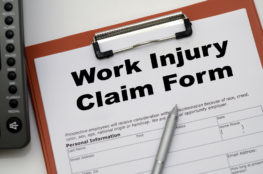 First responders in McAllen and elsewhere in Texas' Rio Grande Valley may be answering emergency calls with a little less confident about their employers having their backs this month. This is because several local government leaders hedged recently when asked about providing workers' compensation to emergency responders who contract the COVID-19 coronavirus.
KRGV 5 News contacted several cities
to ask whether workers' comp would protect their police officers after Corpus Christi police officer Charlie "Chuck" Williams died due to complications related to the coronavirus and his family was denied compensation. His workers' compensation insurer claimed his illness was not related to his job.
What News 5 found is that it remains in doubt whether workers' compensation will pay the medical expenses of essential workers on local government payrolls if they become sick or die due to COVID-19.
"McAllen offers its officers life insurance, but the city could not specify whether they pay benefits to a police officer's next-of-kin if they die due to an illness related to the job," the report says.
Public employers in Texas are obligated to insure their employees, but providing workers' compensation insurance has been voluntary in Texas for over a century. Workers' compensation typically pays medical expenses and income supplements to covered employees, and survivors' payments when covered employees die from occupational illness or injury.
Providing workers' compensation shields an employer from being sued for any negligence on their part that led to an employee's illness, injury or death. The lack of workers' compensation opens an employer to personal injury and wrongful death lawsuits, which can seek compensation far beyond what workers' comp pays.
At Herrman & Herrman, P.L.L.C. in McAllen, we can advise any South Texas worker or their family about their legal options after a workplace injury or illness claim.
Coronavirus Status in McAllen and Hidalgo County
As of this writing, McAllen and Hidalgo County are in Phase III Re-opening status, which authorizes most businesses and services to re-open if they commit to certain protections for employees and customers. In late June, Gov. Greg Abbott lifted or loosened several occupancy limits for businesses and government services.
Effective July 3 with some exceptions, Abbott ordered every person in Texas to wear a face mask inside commercial establishments or other buildings open to the public and when in outdoor spaces where it is not feasible to maintain 6 feet of social distancing from others. Counties in Texas may seek an exemption from this order if they have 20 or fewer active COVID-19 cases.
2,484 active cases of COVID-19
675 new cases
410.6 cases per day on average over the previous 7 days
405 COVID-19 patients hospitalized
152 COVID-19 patients under active ICU care
132,636 people tested
25,169 total confirmed cases
21,584 patients released
1,101 COVID-19 deaths.
As of August 25, the county reported 3,818 total cases of COVID-19 in McAllen, directly affecting 2.66% of the city's population.
First Responders, Workers' Compensation and COVID-19
McAllen, Texas, provides each city employee life insurance coverage at no cost worth twice their annual salary, up to a maximum of $100,000. Employees can enroll themselves, their spouses, and dependents in supplemental life insurance with accidental death and dismemberment.
McAllen also offers the opportunity to buy short- and long-term disability insurance. The maximum benefit duration for short-term disability is 13 weeks, with coverage beginning either 8 or 16 days after an accident or illness, depending on the policy. Under long-term coverage, the maximum benefit duration is either 2 years, 5 years or up to age 65 depending on the plan selected, with each requiring the employee to be disabled for 90 days prior to collecting benefits.
Some states are ensuring workers' compensation coverage for first responders and health care workers impacted by COVID-19, the National Conference of State Legislatures (NCSL) says. A common approach is to amend state policy so that COVID-19 infections in certain workers are presumed to be work-related and covered under workers' compensation. This presumption places the burden on the employer and insurer to prove that the infection was not work-related, which makes it easier for those workers to obtain benefits.
In total, 14 states have taken action to extend workers' compensation coverage to include COVID-19 as a work-related illness, the NCSL says. Many more have pending legislation, executive orders, and other administrative policy changes that directly address workers' compensation coverage of COVID-19. Texas is not on the list, however.
In 2019, a bill in the Texas legislature was designed to make it easier for first responders – Emergency Medical Technicians (EMTs), paramedics, firefighters, and police officers – to receive promised health care benefits. It would have allowed self-insured cities to be sued and for the Division of Workers' Compensation to assess penalties against them if the city committed an administrative violation by not covering a filed claim. However, the measure died in committee.
First responders who are employed by cities that insure employees under the Texas Municipal League Intergovernmental Risk Pool (TML-IRP) may be able to obtain assistance. A TML-IRP advisory about COVID-19 says, "For first responders that have been on duty and who contract COVID-19 during this time, TML-IRP will pay for any medically recommended testing and provide all workers' compensation benefits provided to first responders under the workers' compensation statute and the presumption statute (Chapter 607 of the Texas Government Code).
At Sec. 607.054, the presumption statute refers to "tuberculosis or any other disease or illness of the lungs or respiratory tract" (COVID-19, we would argue) as presumed to have been contracted on the job and making the first responder eligible for benefits.
Contact Herrman & Herrman in McAllen
We expect first responders and their families to face a fight whenever they seek workers' compensation or other insurance benefits for the COVID-19 coronavirus contracted on the job, regardless of what their employer has promised. Our experienced workplace injury and wrongful death attorneys are ready to fight for your rights. Our legal team will do everything we can to pursue full and fair compensation for you.
Contact Herrman & Herrman, P.L.L.C. in McAllen at (361) 882-4357 as soon as possible for help obtaining benefits. Our attorneys work on a contingency fee basis, which means that you will not owe us a fee until we recover compensation for you. Call us today.