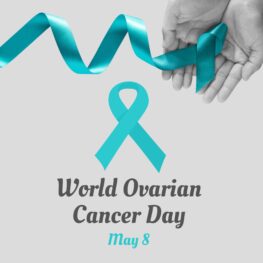 What is World Ovarian Cancer Day?
World Ovarian Cancer Day was established in 2013 by the World Ovarian Cancer Coalition. The day is recognized worldwide on May 8 to raise awareness about ovarian cancer and acknowledge the suffering of people with ovarian cancer and the efforts of their families. World Ovarian Cancer Day's social media reach has grown significantly over the past few years, from 3 million in 2020 to 18 million in 2021 to 28 million in 2022. Per Globocan's 2020 data, ovarian cancer is the 8th most common cause of death from cancer and the 7th most common among women globally. More than 300,000 women are diagnosed, and 207,000 die from the disease every year. Early symptoms of ovarian cancer are generally subtle, leading to a longer time before the disease is diagnosed. It is critical to know the signs and see your doctor quickly. Common symptoms include abdominal or pelvic pain, increased abdominal size, bloating, changes in bowel habits, eating less while feeling fuller, urinating more often or urgently, and fatigue. If you experience these symptoms for two weeks, visit your doctor.
How can you raise awareness?
Use your voice to get involved and increase awareness of ovarian cancer. Raising awareness leads to action, and action saves women's lives. Using your voice can be as straightforward as a social media post urging others to learn and share ovarian cancer, or you can organize your friends to all wear teal outfits and share photos to increase the reach of your message.