SAN ANTONIO, TX – A man in San Antonio suffered horrific injuries yesterday morning when a train ran over his hand. The man was laying on the railroad tracks along South Presa Street and Dimmit Street at around 7:30 a.m. yesterday when the train passed on top of him. The train engineer sounded his warning horn and hit the brake, but he was unable to stop the train in time.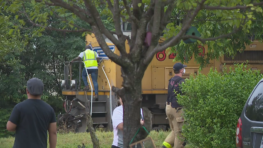 According to Fox San Antonio, SAPD arrived to find the man still underneath the train. His right hand was trapped under a wheel. First responders were able to lift the train car and free the man.
The man's hand was mangled, but he appeared to be conscious when they transported him to a nearby hospital.
It's unclear why the man was laying on train tracks. We'll update you when we find out more.
Disclaimer: The San Antonio car accident attorneys at Herrrman and Herrman provide accident reports to help you stay safe on the road. We hope that this article will allow you to stay informed and make safe decisions while driving. This article is not intended to provide medical or legal advice. If you or a loved one were hurt in a car accident and need legal counsel, contact Herrman and Herrman to discuss your case.