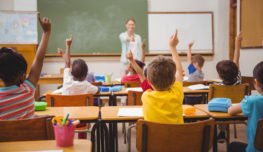 How to Get Help With Supplying Students This School Year
As South Texas students head back to school we understand that finding the wiggle-room in a bank account for the required supplies can sometimes leave parents and guardians with back-to-school-blues. Those of us here at Herrman & Herrman understand that education is a child's opportunity to succeed and we want to make sure that your scholar has the chance to shine in this fresh start to the school year.
Before we link you to some specific resources in your area we have done our research to find out how to best navigate finding the necessary supplies your student needs to return to school this Fall.
The best approach is to start off close to home and branch out from there.
Contact Your School Liaison or District Office For Assistance
Education advocates and experts agree that if your kid's school has a family liaison, or someone in their guidance counselor office tasked with helping tackle the challenge of school supply limitations, you can always contact them to see what programs you can be linked up with. Opening up this dialogue is a good start not just for back to school needs but for whatever expenses might arise throughout the year related to education. By connecting with someone that is accessible you will help establish your connection to future opportunities for your student and also make it as easy as popping into the school's front office.
Although speaking with someone at your child's school is the closest in proximity it might also hit too close to home. If you would rather reach out to someone outside of your child's environment, don't worry. Hoping to find help with more anonymity is nothing to be ashamed of and advocates want you to know that you're not alone. The main objective is securing the supplies for your student and it doesn't matter who you contact specifically so long as you contact someone. By calling your school district's main office and inquiring about any assistance opportunities you will be guided to the appropriate resource or organization that can best serve your student.
Another option is to call 211 anytime and an operator will direct you accordingly.
Donating School Supplies to Give Back
If you're looking to give back to those who need it most this semester or if you need access to supplies, look no further. Even if their regularly scheduled donation drives have passed, it's never too late to do your part and donate to help continue to supply all of their students who need it most.
If your wallet allows, consider contributing to one of these incredible initiatives dedicated to helping every child succeed.
(McAllen)
All of the efforts for quality education made possible by those groups get an A+ in our book.
Send this post to someone you know that could use the helping hand and thank you for doing your part to make sure that each kid's new year starts off with all the supplies necessary to bring out their very best academic performance, regardless of a family's finances.