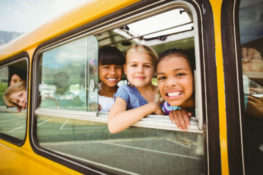 Back-to-school season is a busy and exciting time of year. It can also be a dangerous time of year as teenage drivers, harried parents, school buses and others all head to school at the same time. With millions of Texas children soon returning to school, we turned to the Texas Department of Transportation (TxDOT), National Highway Traffic Safety Administration (NHTSA) and others for some reminders about being cautious in school zones and safe around school buses.
Driving in School Zones
When you see a school zone sign, be prepared to decrease your speed and increase your caution. Always obey school zone speed limit signs.
Put away your cell phone. Cell phone use is banned in active school zones in Texas, and violators face fines of up to $200 in school zones where signs are posted. Remember that other traffic fines usually double in school zones.
Children may be at a school for hours before and after the school day. Be alert for children who might dart across the street or between vehicles.
Watch for children gathered at bus stops and for kids walking or riding bikes along neighborhood routes to schools, especially at crosswalks. Look for children walking in the street, especially if there are no sidewalks in the neighborhood.
Remember that children may misjudge vehicle speeds and can make an incorrect decision about when it is safe to cross the street as a car is approaching.
School Bus Safety
The Texas Department of Public Safety says more than 40,000 school buses transport 1.5 million Texas children every school day.
To do your part for school bus safety:
Expect to see school buses, including activity buses, on the road on school days, before, after and during school hours.
Remember that, by law, a school bus will be slower. The maximum speed for a school bus on a Texas highway that is not an interstate is 50 miles per hour. On an interstate, the maximum speed limit for a school bus is 55 miles per hour.
Stop when a school bus stops. Texas law requires motorists to stop for flashing red lights on a school bus, regardless of which direction you're headed. You can move your vehicle once the bus has moved, the red lights stop flashing or the bus driver signals it's OK to pass. In 2013, Texas Highway Patrol troopers issued 566 tickets for passing stopped school buses. Passing a stopped school bus can result in a $1,250 fine.
Keep in mind that school bus operators are required by law to stop at railroad crossings, even if there is no train in sight. The driver is required to listen and to look in both directions before proceeding. Do not ever tailgate a school bus, but particularly when approaching a railroad crossing.
Teach your school-age kids to be safe around school buses. Children should stand far back from an approaching school bus while waiting at the bus stop. They should wait until the driver says it is safe before boarding the bus. When walking in front, behind or on either side of a school bus, a child should remain at least 10 feet from the bus so the driver can see them.
Car Accidents in School Zones
Distractions, negligence, and lack of familiarity with traffic patterns can lead to car accidents in school zones.
In 2013, the TxDOT says, 625 vehicle accidents occurred in school zones in Texas, resulting in two deaths and 112 serious injuries. In August and September, there were 104 collisions in school zones. The most common contributing factors to these accidents were driver inattention, failure to control speed and failure to yield the right-of-way at stop signs.
The National Highway Traffic Safety Administration says 490 school-age children are killed each year as they ride to or from school. Four of them, on average, are on school buses. Seventy-five students are killed each year while walking to or from school, and 21 are fatally injured while riding bicycles.
Accidents Increase as Days Get Shorter
The changing seasons will make matters worse, reducing visibility. Texas' monthly crash statistics show a significant jump in October and high rates through the end of the year.
As the autumn sun sits lower in the sky, its glare makes it harder for drivers to see during afternoon commutes. As the days grow shorter and the time changes, some of us will send our kids off to school in the dark and those who participate in after-school activities will come home in the dark, as well. Darkness increases the potential for car accidents and for pedestrians or bicyclists to be hit by cars.
Returning to school means it is time to be on our best behavior, as students and drivers.
Adopting safe driving habits now will help protect our children, friends, neighbors, and others as the new school year begins and for long afterward.
If your child has been harmed in an accident caused by another motorist in Corpus Christi, let an experienced car accident lawyer review the specifics of the accident and explain your legal rights.