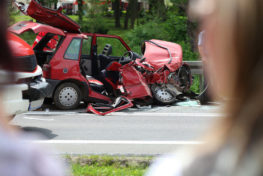 Texas had the most deaths in car accidents of any state in the union in 2018, the National Highway Traffic Safety Administration (NHTSA) says. There were 3,303 fatal motor vehicle accidents and 3,639 deaths across Texas in 2018, according to Motor Vehicle Crash Statistics published by the Texas Department of Transportation (TxDOT).
Residents of Brownsville and Cameron County may wonder how common fatal traffic accidents are in their border town.
The TxDOT report says there were 33 fatal accidents and 35 fatalities in Cameron County in 2018. That is just shy of 1 percent of fatal car accidents and car accident deaths in all of Texas occurring in the Brownsville area. It also amounts to about one fatal motor vehicle accident every 11 days.
Comparing Brownsville Fatal Car Accident Rates
A better way to look at car accident statistics is to compare the raw numbers in light of the population of the area. This way, for example, we can more logically compare the 368 fatal car accidents in Texas' largest county, Harris County (Houston), where you would expect there to be more accidents, to the 33 fatal car accidents in much smaller Cameron County.
Based on a 2017 population of 4.65 million, the 368 fatal car accidents in Harris County translates to a rate of 7.9 fatal car accidents per 100,000 population. Cameron County, with a population of 423,725, had a fatal car accident rate of 7.78 per 100,000 population. As you can see, the rate of fatal accidents in Brownsville is comparable when you adjust for population size.
(To find that rate, divide the number of accidents by the total population of the county. Then multiply the result by 100,000 to provide the number of fatal car accidents per 100,000 people.)
It might be more appropriate to compare the fatal accident rate in Cameron County with Texas counties of similar population size. Unfortunately, there are not any close population comparisons among Texas counties. Cameron County's population of 423,725 falls between:
Williamson County (Georgetown) north of Austin with a 2017 population of 547,545. Its 36 fatal car accidents in 2018 mean a rate of 6.57 per 100,000 population.
Brazoria County (Angleton) on the Gulf Coast with a 2017 population of 362,457. Its 31 fatal car accidents in 2018 mean a rate of 8.55 per 100,000 population.
Among the next smaller counties:
Bell County (Belton) had a 2017 population of 347,833. Its 28 fatal car accidents in 2018 mean a rate of 8.04 per 100,000 population.
Galveston County (adjacent to Harris County / Houston) had a 2017 population of 335,036. Its 37 fatal accidents in 2018 produced a rate of 11.04 deaths per 100,000 population.
Lubbock County had a 2017 population of 305,225. Its 24 fatal accidents in 2018 mean a rate of 7.86 per 100,000 population.
Where Do Fatal Car Accident Fatalities Happen in Brownsville?
The Texas DOT crash statistics break down the types of roads on which fatal car accidents occur. For Cameron County, the TxDOT reports fatal accidents in 2018 on:
Interstate highways, such as I-69E or I-2 (2 fatal accidents, 2 deaths)
U.S. and Texas state highways, such as U.S. 77 and TX-4 (11 fatal accidents, 11 deaths)
Farm to Market roads, such as FM 803 or FM 511 (14 fatal accidents, 15 deaths)
County roads, such as Paredes Line Road in Cameron County (1 fatal accident, 1 death)
City roads, such as E. Harrison Street in Brownsville (5 fatal accidents, 6 deaths)
Farm to Market roads are a type of secondary road unique to Texas that are narrower and more winding. They were designed to connect rural areas to city markets and make up well over half of the Texas highway system, according to Texas Monthly. Some FM roads are officially known as RM, or ranch-to-market roads because, when they were built in the 20th century, local ranchers objected to being called farmers by implication.
Top Causes of Fatal Car Accidents in Texas
The majority of Brownsville car accidents are caused by driver error, careless driving or recklessly disregarding traffic safety laws.
The NHTSA says approximately one-third of all motor vehicle fatalities involve speeding. In Texas in 2018, there were:
219 fatal accidents caused by exceeding the speed limit
440 fatal accidents due to unsafe speed
494 fatal accidents caused by failure to control speed
Among 251 Texas deaths caused by speeding in 2018, there were:
133 speeding drivers
56 occupants of other vehicles not speeding
47 passengers in speeding vehicles
11 pedestrians
4 others killed.
Almost 30 people a day die in drunk-driving crashes in the U.S., according to the NHTSA. That's nearly one person every 50 minutes and more than 10,000 per year.
The TxDOT reports 513 fatal crashes caused by a driver under the influence of alcohol in Texas in 2018. Of 1,243 fatally injured drivers tested in 2018, 456 had a blood-alcohol concentration of 0.08 or more, which is per se evidence of drunk driving.
There were 850 DUI crashes overall and 940 DUI deaths in Texas in 2018. There were 189 more fatal crashes in which the driver had been drinking, the TxDOT says.
Texas statistics show 357 fatal accidents and 398 deaths in car accidents caused by distracted driving across the state in 2018.
How Can A Car Accident Attorney Help Me in Brownsville?
Too many car accidents in Brownsville lead to unnecessary deaths as well as serious injuries. If you have lost a family member in a car accident in Cameron County, Texas, caused by someone else's negligence or recklessness, a Brownsville car accident attorney at Herrman & Herrman can help you seek full compensation for your losses and justice for your loved one.
Herrman & Herrman's attorneys in Brownsville are ready to help if you have significant medical bills caused by another driver's negligence or your auto insurance company is refusing an uninsured motorist policy claim. Let one of our knowledgeable Brownsville car accident attorneys review the facts of your case and explain your legal options in a free legal consultation. Contact us today.