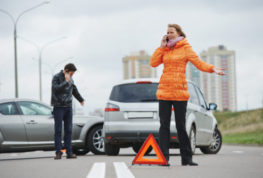 Getting into an automobile collision can be a very scary circumstance. Often times the collision is severe in nature, and these collisions can cause serious injuries. If you have been seriously injured in a car collision, you MUST contact emergency facilities to tend to your health. Safety and your health is always the top priority. Here is a quick checklist on what to do when you get into a wreck.
Call the police to report the collision
Order an ambulance and the police to come out if the collision is severe;
Take photos of the property damage and any visible injuries;
TALK TO WITNESSES AND URGE WITNESSES TO TALK TO THE POLICE;
CALL HERRMAN & HERRMAN, P.L.L.C.
Assuming that the collision is not catastrophic, there are key pieces of evidence that need to be captured at the scene of the collision in order to preserve a good claim with the insurance companies.
Photos showing the property damage are always a great help, so it is important to take as many photos at the scene of the collision as possible. When it comes time to negotiate the claim, in some cases the insurance adjuster has never seen photos of the vehicle. With photos, there is documented evidence showing that the collision occurred and how severe the collision was in nature.
If the police write a report on the collision, the report can be used as a key piece of evidence. It is important for the law firm you hire to obtain the police report early to establish claims with the insurance companies and begin the claim process.
Often times it is essential to hire an attorney in order to obtain the appropriate outcome for a collision. The insurance companies want to settle claims under the true value to make money. It is very simple folks, if the insurance companies did not make money by supplying you with insurance benefits, THEY WOULD NOT PROVIDE YOU INSURANCE BENEFITS. When you begin to think about these scenarios with the proper lens, it is easy to see that evidence is needed to build a strong case.
At Herrman & Herrman, P.L.L.C., we understand that a car wreck can be a very scary thing. We also understand the importance of you, the client, and making sure that you, the client, gets the medical attention necessary to make sure you have your health back. The client comes first at Herrman & Herrman, P.L.L.C.