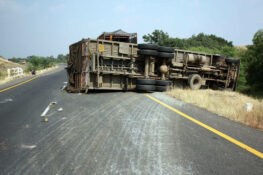 Thousands of commercial trucks travel on Texas roads and highways every day. Unfortunately, this concentration of commercial activity makes Texas roads especially dangerous for motorists.
Every year, nearly 600 people die and thousands more are injured in Texas truck accidents. When victims are injured due to the negligence of truck drivers or trucking companies, the accident victims and their families have the right to hold the at-fault parties financially accountable for their losses.
However, a controversial new bill that is working its way through the Texas legislature could severely limit the rights of truck accident victims and their families to sue for compensation.
What Does House Bill 19 Say?
House Bill 19 proposes to assign separate liability for truck accidents to truck drivers and their employers. In most truck accident cases, employers are legally and financially responsible for the work-related actions of their employees. According to supporters of the law, this will protect trucking companies from having to pay for the negligent conduct of their drivers.
The legislation received approval by the Texas House of Representatives in April 2021 and subsequently went to the Senate for consideration. In mid-May, the Senate approved a revised version of the bill.
Since the bill was amended by the Senate, it will now require a new round of approval in the House before being sent to Governor Greg Abbott.
Under the text of House Bill 19, truck accident victims would need to demonstrate that a trucking company exhibited gross negligence in its training or company policies to hold them directly responsible and recover compensation.
Opponents of the bill argue that it shifts responsibility away from trucking companies by focusing on the conduct of commercial drivers. As a result, they say, the bill is more likely to benefit insurance and trucking companies than Texas motorists.
Many personal injury attorneys in Texas have been critical of House Bill 19, explaining that the legislation could make it more difficult for truck accident victims and their families to bring a lawsuit against a trucking company and would give trucking companies a free pass to neglect road safety.
According to Ware Wendell, executive director of public safety organization Texas Watch, there is already a "clear and present danger" on Texas roads due to trucking companies refusing to be serious about safety.
Why Did the Texas Senate Approve the Bill?
According to local news sources, the legislation was adopted after heavy lobbying from the trucking industry.
Republican State Rep. Jeff Leach of Plano, who sponsored the bill, has called efforts to raise concerns about the legislation attempts to misinform and mislead the public. Mr. Leach insists that House Bill 19 "safeguards the rights of all injured Texans."
In the Senate, Larry Taylor of Pearland similarly claimed that the bill will "ensure the rules of the road for highway accident cases are applied uniformly and fairly in all Texas courtrooms."
Advocates of the bill say that it is designed to protect commercial trucking companies from rising insurance costs and the increasing number of frivolous accident lawsuits.
Lucy Nashed, of Texas for Lawsuit Reform, claims that the number of truck accident lawsuits are threatening to run small trucking companies out of business.
But Jim Perdue, president of the Texas Trial Lawyers Association, said the legislation would damage current court practices and would create unprecedented delays in the process and delivery of justice. He called it a radical remaking of the civil justice system to protect a specific class of defendants—trucking companies.
What Does This Mean for Trucking Companies?
House Bill 19 may be good news for trucking companies, but not for injured people seeking to hold trucking companies accountable.
Public Citizen Texas, a public interest advocacy group, contends that House Bill 19 puts the welfare of businesses over the safety of Texas citizens. Adrian Shelley, director of Public Citizen Texas, said the legislation limits corporate liability and throws roadblocks into the recovery process for grieving families.
"This bill turns its back on hundreds of grieving families who experience tragedy in Texas truck accidents each year," Shelley told the Dallas Morning News.
Bay Scoggin, state director of the Texas Public Interest Research Group, says the bill will create a "perverse incentive" to avoid the latest safety measures in the trucking industry, which will likely lead to more dangerous drivers and trucks on Texas roads.
What Does This Mean for Truck Drivers?
If House Bill 19 becomes law, truck drivers may be held responsible for accidents without the protection of their employer's insurance or legal representation. This means truck drivers will likely be under increased scrutiny for their conduct and face an unprecedented level of liability for accidents.
Many drivers are independent contractors with have no say over the routes they take or the timing of their deliveries. Many factors that could contribute to a dangerous accident are out of a driver's control.
To compensate for this increase in potential liability, truck drivers who operate in Texas may be forced to purchase extra insurance coverage or apply more rigorous screening criteria when deciding which trucking companies to work with.
Contact a Truck Accident Lawyer If You Were Injured
The attorneys at Herrman & Herrman stand up for people who are injured in truck accidents in South Texas, including Corpus Christi, Brownsville, San Antonio, and McAllen. Our legal team has seen first-hand the pain and suffering that families experience from preventable truck crashes caused by trucking companies' disregard for safety. We oppose efforts to make it harder for families to hold trucking companies accountable when their negligence leads to serious accidents. To fight back against the potentially damaging effects of this bill, contact your local representatives and encourage them to vote against the passage of House Bill 19.
If you were injured in a truck accident, the attorneys of Herrman & Herrman can help you understand your rights and how the law may affect your case. Contact us today to speak with a compassionate attorney about your Texas truck accident claim.