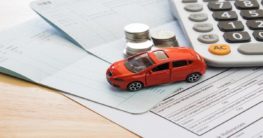 No one wants to be involved in a car accident, but the reality is that they happen occasionally, even to the best of drivers. After an accident, you should only be concerned with everyone's health and safety, but it's likely that you will wonder about your auto insurance and how high your monthly rate will be following the incident. Unfortunately, having an accident on your record raises a red flag to automotive insurers and can cause your monthly premium to rise.
What Rate Increase Can I Expect?
There is no actual firm rule of thumb when it comes to an expected increase in your premium following an accident. In fact, these rates often vary by state, and can be as little at 12% in the state of New York or as large as 87% in Minnesota. You can truly expect additional premiums to add up over the years if you have multiple accidents on your record or if you were at-fault for the accident.
What Can I Do About an Insurance Premium Increase?
If you find that your insurance premium goes up after an accident, there are courses of action you can take. First of all, if this is your first accident or you were proven to not be at fault, you can talk to your auto insurance provider and ask if they could lower your premium back down. Many insurance companies offer accident forgiveness, which allows a literal forgiveness of the accident on your record so that your premium won't climb too high. 
Avoid an Accident in the First Place
The number one way to keep your insurance premiums low is to make sure there are no accidents on your driving record. You can avoid an accident by making sure you practice good driving habits, including not engaging in distracted driving or texting while driving, not drinking or using substances before driving, and keeping your eyes on the road and following the speed limit. Being a safe driver will not only keep your insurance rates low, it will also keep you safe and protect you and your passengers from harm.
Contact Herrman & Herrman P.L.L.C. at 361.882.4357
Our firm is equipped with over 100 years of combined experience handling personal injury cases across Texas. Our outstanding record of favorable settlements and verdicts includes over 20,000 successfully resolved cases. Once we take on a case, we are relentless and you can rely on us to pursue full compensation for you.
You can trust our attorneys to be compassionate and professional.
We will fight hard to obtain a fair settlement for you.
Our firm represents the injured and families who have lost a loved one due to the negligent acts of others.
We serve as counsel in a range of injury cases – including car, truck, motorcycle, bicycle, and pedestrian accidents, premises liability cases, product liability cases, and medical malpractice claims.
We have the ability to dispatch the Herrman & Herrman Accident Investigative Team to the crash scene to start an investigation and preserve critical evidence.